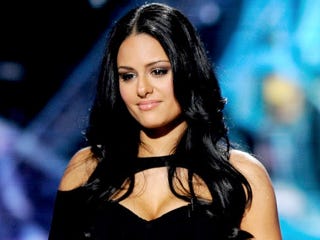 Hello, folks. Welcome back to Bad Beats, the column you visit for betting advice and sad tales of gambling woe. Read past Bad Beats here. Got any stories for us? Email us at tips@deadspin.com. Subject: Bad beats.
It is a truth universally acknowledged that an American man in possession of money bets on sports. Probably football. But a lot of people are betting on American Idol, too.
And so, last night, when Idol frontrunner Pia Toscano met the unyielding axe of an absent-minded American public last night, the studio audience booed. Some people at home were baffled, too. Not least among them was Adam Young, head oddsmaker at Bodog.com.
"Pia was the favorite to win the whole competition, at 2:1," he says. "She was the best singer there, and she had been a big loser for us." (Pia had opened at 30:1 odds to be eliminated last night, though she was down to 15:1 by showtime.)
If you think that Young was surprised only as an Idol fan, think again. So far, total bets on Idol make up about 25 percent the size of the total action taken so far on the Masters. Betting on reality TV: a tradition unlike any other.
Young says that this year's bunch of contestants—especially those still around—represented an unusual level of parity for Idol. But there's an undeniable trend so far in the competition: five female contestants have been eliminated in succession, leaving only Lauren Alaina and Haley Reinhart on the distaff side.
Alaina is one of Bodog's new favorites, at 5:2, alongside teenage country crock Scotty McCreery, whose facial expressions conjure fuzzy memories of Will Ferrell playing George W. Bush.
Gawker's Richard Lawson, who watches over this vast ash heap like the eyes of T.J. Eckleburg, thinks Scotty's going to win.