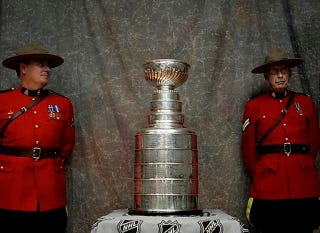 So, the hockey season that actually matters is about to start, with the Phoenix Kai Oats visiting the Red Wings (Nos. 6 and 3 in the Western Conference respectively) and the Tampa Bay Lightning heading to Pittsburgh for some 4-versus-5 eastside action.
At 7:30, the top-seeded Washington Capitals host the barely-in New York Rangers.
For your post-10 p.m. nightcaps, enjoy the almost-eliminated defending-champion Chicago Blackhawks vs. the Rebecca Black inspired Vancouver Canucks and there's-actually-a-team-in-Nashville-? Predators visiting the Emilio Estevez inspired Ducks of Anaheim.