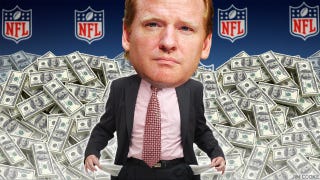 Drew Magary's Thursday Afternoon NFL Dick Joke Jamboroo runs every Thursday during the NFL season. Find more of his stuff at his Twitter feed.
Three weeks ago, well before Judge Susan Nelson lifted the NFL lockout, I got an anonymous email from someone claiming to work for an NFL team. I have no way of verifying who this person was, or that their claims are legit. But I'm gonna post the full text of it here anyway, because NFL owners are fuckheads.
FROM: Anon Ymous

RE: FUNBAG: Reliable Information about NFL Owners Financials

I work for and am related to an owner of an NFL franchise. I can't say who I am or anything else without compromising myself and getting myself my in a world of shit, especially during this lockout. But I can say, without any doubt, that this lockout is 100% the result of the owners being greedy. I had access to the records and financial books of this unnamed NFL franchise (a franchise I will admit is constantly struggling and has trouble even selling out games). And in terms of the owners' compensation, they break even with TV advertisements ALONE. This does not include any advertisements within the stadium or anything related; TV advertisements ALONE.

I know that I do not sound like any sort of a reliable source, but believe me when I tell you, this lockout is due completely to the greediness of the NFL owners and nothing less.
I emailed Anon Ymous back and asked if I could see some of the documents he saw. He replied saying he couldn't because he no longer had personal access to them. Ninety minutes later, his email account was erased. INTRIGUE!!!
For his part, NFL commissioner Roger Goodell has used this lockout to tell fans that the current Collective Bargaining Agreement was unfair to owners merely because the players liked it. He also wrote a breathtakingly paranoid and stupid op-ed in the Wall Street Journal Tuesday trying to convince you that ending the lockout early is somehow a bad thing. He's a shitty, lousy commissioner who was hired expressly just to steward this particular work stoppage. And he has overseen it with all the authority of a monkey jamming a flashlight up its own ass.