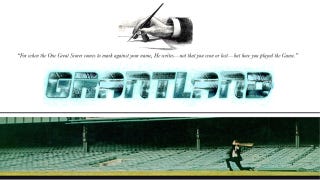 Approximately one month ago, Deadspin Senior Editor Tommy Craggs was approached by several fine folks involved in Bill Simmons' then unnamed editorial project, which we now know, thanks to Richard Deitsch's Twitter account, is called Grantland. ESPN issued a press release soon after that report and confirmed that Deitsch's hunch was correct and also revealed recent additions to its staff. But there's so much more to this story and it's about time our readers were let in on it. Please follow along closely, because the news about to be broken in the following paragraphs is both self-referential and tragically absurd.
First, some fun facts about the site's name: "Grantland.com" was already owned by Ken Grant, charming patriarch of this family who, since 1997, have chronicled their travels in Bali. Here's a screenshot of what that site used to look like:
According to sources close to the situation, ESPN finally struck a deal with the Grant family after several rounds of negotiations. ESPN said it will not reveal on how much money they had to pay Ken Grant for "grantland.com" to vaporize their online picture book of their Bali adventure. "Grantland," if you didn't know, is inspired by 1920's purple prose extraordinaire Grantland Rice and was the name ESPN senior vice president John Skipper was most giddy about, according to sources close to the situation. In case the Grants didn't give up the domain, alternate titles for the site included names such as "Wheelhouse" and "TheGOAT"(Greatest Of All Time), the latter of which was preferred by some staffers because it was "kind of awesome," sources close to the situation said.
As for Tommy's current state of employment with Deadspin, sources close to the situation have said that he was first approached by Grantland editor, Dan Fierman, formerly of GQ, in late March. According to sources close to the situation, Craggs was excited about the opportunity and the vision for the site, which has been trumpeted as "The National 2.0" by some sources close the situation. Talks progressed and Craggs expressed interest in the job. Craggs told me about the overtures from Fierman soon after that and said he had an interview scheduled with Bill Simmons at Sweet and Vicious, a dimly lit bar in the Nolita section of Manhattan on March 31. That meeting went well and that night Tommy told me that once a formal offer was made, he was going to accept the position and his last day at Deadspin would be June 1st. But on April 7, 2011 Craggs published the story "ESPN's Corporate Blog Finds Rock Bottom Somewhere In This Idiot's Office," where many unflattering insults were aimed at ESPN.com's senior director of something, Lynn Hoppes. This piece upset many of Grantland's executive overseers, including executive editor John Walsh and Skipper, who were incensed that, while Craggs was still a full-time employee of Deadspin, he chose to rip on an ESPN employee.