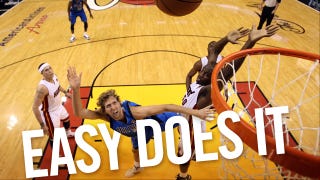 Even before Dirk Nowitzki lifted a championship trophy on Sunday night, he was being held up as a new man. Nowitzki had reinvented himself, we were told. He'd finally "shed" the Euro-soft label plastered to him throughout his career and, to much adulation, morphed into the sort of rugged warrior that wins titles. The tale of an individual transforming himself to wrestle destiny into submission satisfies a special American yearning. In this case, it's obscuring an even more fundamentally American story.
One can only chuckle as the same journalists who once called Nowitzki a wimp now chide us for not respecting him sufficiently. Two years ago, Michael Wilbon, who was of the opinion that Nowitzki had the constitution of a field mouse, said the German was "soft" for sitting out national team duty in the European Championships on Mark Cuban's orders. "This is the problem with the Dallas Mavericks," Wilbon said. "If your player, if your best player is so weak that he lets the owner tell him what to do, you have no great player." Now Wilbon writes that we must "collectively eat a huge plate of crow for judging Dirk wrongly."
Great. For column purposes, Wilbon and others have turned Nowitzki into a symbol of redemption, a newfound tough who once, as Bill Simmons remembers it in his monstrous basketball tome, "refused to limp around with an injured knee in the [2003] Conference Finals." That's only partly true. Yes, Nowitzki was worried about further injuring himself, but Don Nelson (and medical wisdom) refused to let him play. When Cuban insisted, Nelson put his foot down. The disagreement between the two men led to the unraveling of their relationship. Eight years later, we find Nowitzki roaring at Jason Terry and battling through a torn finger ligament and a 101-degree fever on his way to a title, the arc from soft to hard complete, at least in the prefabricated narrative.
A few weeks ago, Basketball Reference compared Nowitzki's career stats to those of Larry Bird, that paragon of clutch play against whom the German has always inevitably been measured (tall, BLOND, long-range shooter). The numbers are close. Nowitzki is the better scorer thanks to his otherworldly offensive efficiency. Bird was a better offensive rebounder and defender. He got more assists, too, but Bird never had Jerry Stackhouse receiving his passes.
Over his 13 seasons, Nowitzki has been about as reliable and lethal a scorer as the league has ever seen. He's put up 20-plus points a game for more than a decade and taken shallow teams into the playoffs, occasionally far, for the last 11 years. This is not a man who's undergone enormous transformation as a player.
If the external data don't support the storyline, something internal must be involved. Thus the explanation that, until three days ago, Nowitzki was too soft to win a title. Bird, by contrast, was coiled steel, an infamous trash talker who once throttled Dr. J. after scoring 42 points and rubbing it in Erving's face. When Bill Laimbeer clubbed Bird on the chin in Game 2 of the 1985 Eastern Conference semifinals, Bird went and rattled off 31 points. In Game 3, he fought Laimbeer. Nowitzki is not cut from a similar cloth.
Instead of everyone casting about for ways to explain Nowitzki's transformation now that he has a ring, we should celebrate the fact that he hasn't transformed at all. In being exactly who he's always been, he defies the silly notion in American sports that an athlete has to don armor, psychic or otherwise, to win a title. Nowitzki has never been the guy who screams into the upper decks like a maniac after each and-one. He's never tried to be. He's one of the best low-post scorers in the NBA, but you'd never know it because he doesn't play with his back to the basket like other seven-footers. Instead of dunking opponents through the rim, he's mastered a step-back shimmy to get off a soft jumper that nobody can defend and that often leads to a free throw that almost always goes in. Softly. Nowitzki doesn't charge into battle. He fades away. And he wins because of it, not despite it.