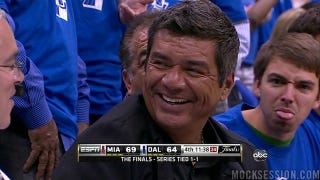 Your morning roundup for June 6, the day we learned the value of Bernie Madoff's underwear. H/T @bubbaprog, proprietor of mocksession.com, for accurately predicting what might tickle us this morning (and others for sending in their own grabs).
What we watched: There is a strange sensation to watching a tennis match in which Roger Federer is considered the underdog, and that was certainly his role in the French Open final yesterday. It felt premature for the commentators (and the fans) to develop the narrative that we were watching a man past his prime attempt to take down younger, more powerful players like Novak Djokovic and Rafael Nadal. For most of the past decade, Federer's prime has seemed eternal. But even as he dropped an early 5-2 lead to lose two close first sets (5-7, 6-7 (3)), and even as he stretched the third set in the final against Nadal to 12 games, the 29-year-old constantly appeared a step and a thought behind the 25-year-old, who covered ground in the 6-1 fourth set just as effortlessly as he had in the first three.
Tennis has never been especially tolerant of aging, but for Federer, the man with the most Grand Slam titles in the sport's history, we want it to be just another point he can finesse his way through. The Swiss has a summer left to showcase the game he brought to Paris these past few weeks, and perhaps some more seasons ahead — but yesterday made it clear that if in fact he must leave, then he deserves an exit worthy of his remarkable career. Perhaps like the one that Sampras crafted for himself ten years ago. (Emma Carmichael)
What we're watching: As you read these words, Inmate No. 09R3260 at a prison facility in Upstate New York is finishing his breakfast. He will have his oatmeal, toast, milk, coffee, and apple juice, perhaps eating slowly to savor the taste, perhaps shoveling it down in a hurry. Because when he finishes eating, he will be escorted to an on-site processing center where he will be given a change of clothes — civilian clothes. He will be handed $40 plus whatever's left in his prison account. He will be unceremoniously shown out the front door, to a waiting car with his lawyer and family. He will be wished the best, and neither he nor the Oneida Correction Facility hope they will meet again.
He will not be home-free yet. He must satisfy stringent requirements for his parole, including regular counseling and drug testing. He will immediately need to begin the search for a job, as gainful employment — or at least an honest, sustained attempt — is a must for the parolee. That could be a problem for the former inmate No. 09R3260, Plaxico Burress, because his chosen profession isn't hiring at the moment. (Barry Petchesky)
Elsewhere
Our very own Polk Panther's Tressel/Wal-Mart photoshop is now the icon of OSU schadenfreude everywhere: "It has been fascinating to see the spread of this thing among the blogs, from Weed Against Speed's Sportstress of Blogitude (an honor) to the deplorable MGoBlog, which consisted of a humorous number of Wolverine fans wondering if Woodley was spending his locked-out offseason creating Photoshops. They also created a rip in the space-time continuum when one of their readers commented on my creation, while having the same avatar as me. I don't even know what to make about that. Clearly I'm most proud of a West Virginia fan using the occasion to remind us that Jim Tressel is a huge homosexual, on account of the vest. And finally, somebody wrote a fucking ARTICLE out of this for TheSpoof.com. It is not worth your time to read." [PolkPanther]