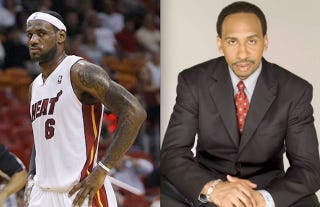 If you tuned in to the ambient noise of the ninth circle of hell this morning, you heard Stephen A. Smith on Mike and Mike talking about LeBron James. And why yes, he did throw some shit at the wall. SportsGrid has the audio, as well as this summary:
This morning, Smith said that he's "[heard] things" through the "grapevine" of a "personal nature," and it may or may not involve, "somebody other than the player," and it may or may not "have a profound effect on the player," and it has nothing to do with "the game of basketball."
Smith won't say it, but the Internet will, and it's a very unlikely name being tossed around this time. (And mom isn't involved.)
So now we have a starting point for the 2011 edition of this column, if it comes to that. It shouldn't, but it probably will, and only because the Heat are two games from elimination. We knew coming into this five-year experiment that it would take just big loss to start the LeBron James doubt machine up again. It didn't matter how much was his fault — any loss automatically becomes about him. And, of course, nebulous off-court business.