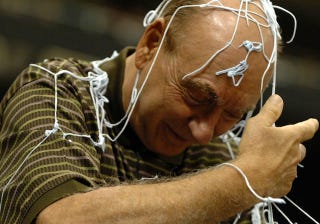 A few things to clear up, America: ESPN's Dick Vitale has never been to North Conway, New Hampshire, and he harbors no resentment for the Conway School District superintendent, Carl Nelson. This contention was at long last cleared up last week, when Lorraine Vitale did a standard Google search for her husband's name and found a critical letter to the editor of the Conway Daily Sun, signed by a Dickie V:
The Conway Daily Sun office received a phone call late Monday afternoon from a person identifying himself as Dick Vitale of ESPN and wanting to talk to someone about a letter to the editor published in Saturday's issue of the Sun.

He was concerned, he said, that someone was falsely using his name to promote some ideas about Conway School District superintendent Carl Nelson. He said his wife had noticed the letter while doing a Google search and, after he too saw the letter, he contacted the Sun office.

But no deception was intended. Turns out there are two Dick Vitales (could be more, but we haven't checked). One Dick Vitale lives in Florida and is a sportscaster for ESPN. The other lives in North Conway and occasionally writes letters to The Conway Daily Sun.
The letter in question would have been a half-assed attempt at a Vitale impersonation: there's no "baby!" interjections, no praise for the purity of Duke basketball, no excitement-induced hernias, and there are zero Hooters promotions. Conway's Vitale (pronounced vi-tally) does have a certain edge, however: