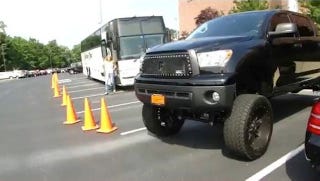 Your morning roundup for June 23, the day Whitey got popped. Image via Nats Enquirer.
What we watched: The showdown in Liaoning Province to determine which ping-pong grip—the delicate penhold or the ain't-it-just-a-li'l-wooden-tennis-racket shakehand—is superior. Top-tier table tennis players split into penholder (Timo Boll, Ma Long) and shakeholder (Ma Lin, Ryu Seung-Min) teams for an Olympic-style tournament:
It was a see-saw tournament with the two groups exchanging the lead until reaching a two-all tie. The winner was decided by a sudden-death play-off where Ma Long and Ryu Seung-min were pitted for a one-set do-or-die game. Ma edged Ryu, 12-10.
Lesson: If you're already one of the best table tennis players in the world, your preferred grip doesn't really matter. (Tom Scocca)
What we're watching: It should go something like this: hype, talking heads, commercial break, hype, talking heads, commercial break, announcement, hat, hugs, handshake, flash, commercial break, repeat. The NBA Draft is formulaic by now, a sort of annual Loud Suit and Compulsory Employment Variety Show, and we all hate it, and yet we are powerless to stop watching it — because even without the guarantee of a season next year, we still get the chance to start talking about "next year."
Like everyone, we expect to see Kyrie Irving go first to Cleveland (and for Nick Gilbert to get another shining moment) and for Derrick Williams to go to Minnesota with the second pick. At about that time we'll start complaining about how this collection of young men with no occupational freedom goes "seriously downhill" from there. And then Stephen A. Smith will say something that starts with a "quite frankly," and there will be another commercial break, after which the Utah Jazz might very well select Jimmer Fredette to guarantee some sell-outs next season. Then a commercial break, probably, and Twitter will make jokes about the Jazz getting Jimmered, or about how no one will get Jimmered until Jimmer gets married. We're co-conspirators, you see. The NBA Draft is predictable and awful because we watch it. I'd organize a boycott of some kind, but I really am curious to see what the Warriors do with the 11th pick. And of course, the Celtics at 25. And by then we're way past trading territory! So let's boycott next year. Next year will be different. (Emma Carmichael)