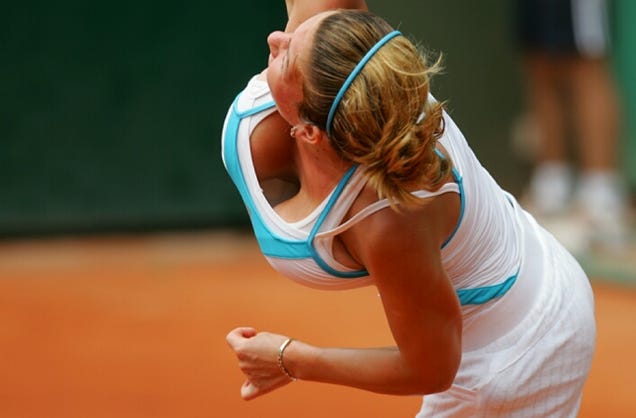 Serena Williams won her second round match against Simona Halep 3-6, 6-2, 6-1 yesterday. Afterward, the 19-year-old Halep spoke about her breasts, namely the decision to have them reduced.
Halep nonetheless is a teenager on the rise. She has ascended 450 spots in the rankings, to No. 57, and credits breast-reduction surgery of two years ago for the surge.

"My ability to react quickly was worse, and my breasts made me uncomfortable," the 19-year-old said. "It's the weight that troubles me. My breasts made me uncomfortable when I play. I don't like them in my everyday life, either. I would have gone for surgery even if I hadn't been a sportswoman."

Fair enough, though one might well question whether a teenager ought to be making such inalterable medical decisions.
Serena Williams continues to struggle with serve but beats Simona Halep in three sets at Wimbledon [NY Daily News] (H/T Barry W.)
Tennis star Simona Halep's fans bemoan loss of her 34DD bust! [Daily India]
17-Year-Old Simona Halep Is A Shot, Jaw-Dropper [Sports by Brooks]