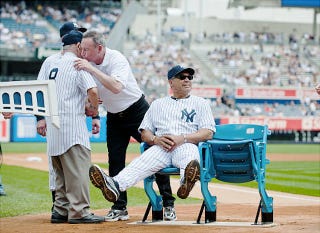 Your morning roundup for June 27, the day this dog made us question if there was any good in the world. Image of Reggie Jackson enjoying retirement via the New York Daily News.
What we watched: Last week, the Diamondbacks called up what's left of Wily Mo Pena, the 29-year-old outfielder for whom baseball fans have developed something of a hipster taste. (You put him on a roster the way you hang a black-velvet tiger painting on a living-room wall.) It's easy to like a hitter who swings not just out of his own shoes, but out of Rob Deer's as well. Statheads talk about Three True Outcome players — guys who either walk, whiff, or hit a bomb. Wily Mo is a Two True Outcome player. He never learned to take a pitch, and you could drive the entire damn NL West through the hole in his swing. But hang a fastball on him and he goes and does something like this.
They say his home run on Friday was the third-longest at Comerica Park since it opened in 2000, 454 feet in all, and if it hadn't been for the stands in left, it would've rolled to a stop somewhere east of Windsor. This was Wily Mo's second home run with Arizona, and only his fourth since 2008, the last time he played in the majors (he tore his labrum that season). Chances are he'll play sparingly here on out, his glove being about as useful in the outfield as a large ball-peen hammer would be. Whatever happens, here's a guess he'll end the season with a batting line somewhere in the vicinity of .174/.174/.435, which is where it stands today. I like that batting line. It's a batting line with personality. It's a batting line trailed faintly by tuba music. Keep on swinging, Wily Mo. (Tommy Craggs)
What we're watching: After the traditional break on the second Sunday, all 32 remaining challengers will compete at Wimbledon today, and that makes it the best day of the tournament every year. It's sunny and warm in London (notable in itself), and the crowd at Centre Court is turning appropriately bougie: Jay-Z and Beyoncé were already upstaged by Prince William's and Dutchess Kate's arrival for the Murray-Gasquet match. More importantly, the best of both the men's and women's fields —with few exceptions — are still in contention. This is the round that either disrupts or expands upon the presumed tournament shorelines.
The first of those disruptions came this morning, with ninth-seeded Marion Bartoli ruining Serena Williams's so-far triumphant return to the circuit, 6-3, 7-6. But the women's side will stay interesting even without its queen: Caroline Wozniacki could set up a quarterfinal match against Maria Sharapova with a win this afternoon, and Bartoli looks as if she could stutter-step right through to the finals. For the men, great American mediocrity Mardy Fish remains, but of course what we're waiting on is the sentimental Federer-Nadal final, or the sentimental Federer exit — whichever comes first. Wimbledon gets great right about now, and it's in part because it remains pathetically true to its stuffy, traditional origins throughout: we'll watch the best in the world carry their own bags all week just so they might have the honor of taking Centre Court without them next weekend. (Emma Carmichael)
Elsewhere
From Dodger blue to purple and gold: "Los Angeles is a tough town to lose. It's a huge, sprawling metropolis of aqueducts, actors, avatars, beaches, mountains and freeways. Somehow, incredibly, like a wallet or a set of car keys, the Dodgers lost it." [LA Times]
Kyle Drabek is an informed young man: "Democrat or Republican? 'I haven't voted yet. But if I did it would be for whatever (John) McCain is.'" [Toronto Star]
And yet, still only 23 years behind the Cubs: "Baseball fans in Alaska were fuming after a traditional midnight game, held every year without lights during the twilight hours of the summer solstice, was postponed for the first time because a visiting California team complained it was too dark." [Reuters]
The statistical downside to baby blues is realized: "Bay has hit .279 during night games and .268 during the day over his career, only a marginal difference. Bay said he was constantly squinting during the day, even on overcast days with a drizzle. But after modifying his eyewear this year, he is hitting much better during day games (.286 compared with .206 at night). Before Friday night's game between the Mets and the Rangers, Bay reached into his locker and pulled out a 24-inch black case containing an array of sleek sunglasses. There were light ones for cloudy days, medium ones for lightly overcast days, and dark ones for, as he put it, staring straight into the sun. 'I take my sunglasses very seriously,' he said." [New York Times]
Keith Olbermann brings truth to power, is punished for it: "I can't vouch for the legitimacy of the motive described in The Post because this is the first time I'm hearing about it. But on a macro level, that does worry me in terms of the suppression of information. I might have been sitting in the stands when I tweeted the photos in question, but I saw nothing that any eagle-eyed guy in the press box couldn't have seen (and trust me, they started looking). There was a coaches' assistant in a Yankee jacket and a Shamwow-Seller's Headset with a radar gun sitting three rows back of home plate signalling pitch speeds to Alex Rodriguez and other Yankee players in the on-deck circle on Opening Day this year, and I took a picture of it, largely because to see the signals, Rodriguez had to basically look right over my head." [Baseball Nerd]