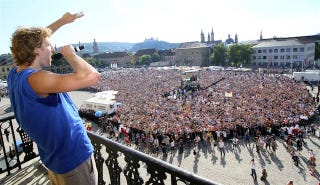 Your morning roundup for June 29, the day we started rapping on light poles. Image — of Dirk Nowitzki's triumphant return to his hometown of Wurzburg, Germany — via MSNBC Photoblog.
What we watched: Break up the Mets! After 299 grand-slam-free games, during which the Mets allowed opponents to hit 18 grand slams, your New York Metropolitans—now 40-39—bashed grand slams in back-to-back innings, both off of Stink's progeny, Daniel Schlereth. (We'd compile a list of things that had happened since Angel Pagan's grand slam on August 1, 2009, the last time the Mets hit a grand slam, but Ke$ha's ascension is the only cultural phenomenon that comes to mind.) Last night's first slam rocketed off the bat of blue-eyed goat Jason Bay, who sits at .234/.312/.313 after a recent hot streak, while the next came from unlikely paragon of health, and more reliable Met masher, Carlos Beltran. And yes, the Mets broke a bizarre streak in innings four and five, but those two frames also saw New York gather 11 of its runs en route to a 14-3 defeat of Detroit, with fellow Dickey R.A. on the hill. 9.5 games behind Philadelphia—who shut out Boston last night—isn't optimal, but, well, on the bright side, the Mets are five games up on the Dodgers, leading the bankruptcy division. (Jack Dickey)
What we're watching: The last not-quite-great-but-perfectly-good American tennis hope, Mardy Fish, will play for the only remaining American tennis glory at Wimbledon today in his quarterfinal against Rafael Nadal. Fish is something of a punchline for this country's tennis cause, but the line has lost some of its value now that the 29-year-old has, well, lost some of his weight. He dropped from over 200 pounds to 170 last year, and his game has changed because of it: he's still the big server he was before, but because he can actually cover the court now, he's able to counterpunch and engage in long rallies. Against Nadal, however — whose play is something like psychological warfare for opponents — Fish isn't set to keep up. In the New York Times Straight Sets blog last night, Geoff MacDonald summed it up thusly:
He has to formulate a shrewd game plan, matching his strengths against Nadal's one or two less than stellar tendencies, then quickly recalibrate when Nadal makes a subtle adjustment.
MacDonald has about 750 more words on the subject, but that may be all we need to know for Fish's actual chances. He'd have to play "the match of his life" to advance to the semifinals. He'd have to take the warfare well. Fish is 0-5 against Nadal in his career, and he's only managed to win one set in those losses. The Spaniard acknowledged this week that Fish is "playing at a very, very high level" right now, but that won't be enough for Nadal's crafty play. He'll take it in three sets, and then we dejected American tennis fans will return to our sad punchline: Mardy Fish! (Emma Carmichael)
Elsewhere
More on Jonah Lehrer's Grantland piece: "Lehrer dresses his argument up in a Malcolm Gladwell-like pop sociology motif, but it's the same argument that curmudgeony old sportswriters have been using since the dawn of time: these geeks aren't really sports fans. Not like the rest of us. If only they could get their heads out of their spreadsheets now and then, they could learn to live life a little, enjoy themselves a bit. Well, guys, I appreciate your concern, I really do. But do me a favor, would you? Just shut up. I know which end of the bottle the beer comes out of, I really do. I've watched ballgames outside, in actual sunlight-no, really. If knowing that a pitcher's BABIP against rate in a small sample is largely unpredictive of his rate in a larger sample makes it harder for you to enjoy watching a game, I'm sorry. But if knowing more about baseball makes it harder for you to enjoy the game, then I'm really not seeing your case that you're the better fan than someone like me." [Baseball Prospectus]