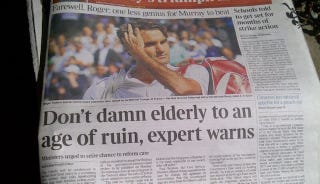 Your morning roundup for June 30, the day the turtles won. Photo via @FortyDeuceTwits.
What we watched: Roger Federer lost at Wimbledon yesterday, the tournament that he more or less owned from 2003 to 2007, when he won five consecutive titles at the All England Club. He fell in the quarters to Jo-Wilfried Tsonga, a 26-year-old with a special serve-and-attack game and now just the third human being to ever beat Federer after trailing two sets to none (and in Grand Slam matches, Federer is now 178-1 after leading a match 2-0). When he'd done it, with a 3-6, 6-7 (3), 6-4, 6-4, 6-4 final, Tsonga fell to the grass in joy and the crowd at Centre Court erupted for him. Tennis fans, after all, have a rather egalitarian stance when it comes to their players. Federer was the sport's deserving and possibly aging prince and would have been the crowd favorite throughout. But Tsonga, who has never won a Grand Slam tournament, got those cheers for the same reason that Federer once got those cheers. No one can replace Roger, yet, but it's still remarkable enough that Tsonga was able to beat him. (Emma Carmichael)
What we're watching: We are 14 hours away from an NBA lockout, and no one seems to care. It's getting less play in media circles than the ongoing NFL lockout, even as players and owners meet today in one last-ditch attempt to find common ground before the CBA expires at midnight. Does America care that much more about football than about basketball? Yes, but that's not the story here.
There's going to be a lockout, but not for long. We haven't seen the vitriol ramped up in the press for two reasons: both David Stern and Billy Hunter have been masterful at keeping their grievances to themselves, or at least keeping it at the bargaining table. NFL players have different goals; so do the owners. Obviously it's the same in basketball, but you won't hear it unless things get dragged out for months. David Stern rules with the kind of iron fist that Roger Goodell dreams of, and Billy Hunter's been doing this for 15 years, already with one labor stoppage under his belt. They're pros.
The second reason is that the sides are not terminally far apart. There's every reason to think a deal will get done in plenty of time to let the offseason proceed smoothly. They've already signaled willingness to compromise: the players have offered to cut salaries $500 million over five years, and the owners have abandoned plans for non-guaranteed contracts. There are no crucial structural issues on the table here, beyond a flex cap which the league doesn't seem married to; it's all about trying to better predict the economy after the last CBA propped up the players right before an extended recession.
So if no one's wringing their hands or doomsaying in anticipation of a work stoppage, it's because no one believes it'll be an extended work stoppage. It's hard to get wound up over a lockout that doesn't end up canceling any games, and both the players and the owners, for all their posturing, seem to believe this won't be one of those. (Barry Petchesky)
Elsewhere
Reggie not playing nice about symbolic bronze statue: "When Bush's disgraced reputation eventually fades from everyday life, which if Bush's recent, media-free SD weekend was any indication may have already happened, the Griffins will retake personal possession of the sacred bronze object to do with it what they please. So when Bush acknowledged what was obviously a forced forfeiture of his 2005 Heisman Trophy, we now know it was absolutely no coincidence that the ex-USC football player released a carefully-crafted statement through his agent Joel Segal that gave no indication that the now-disgraced former Trojan would actually honor the Heisman Trophy Trust's subsequent, repeated requests for him to return the trophy itself." [Sports By Brooks]
Josh Levin takes on Jonah Lehrer's Grantland piece, the growing hatred of numbers in business and politics: "'Best Buy needs to stop relying on accountants to dictate its business decisions,"'says Timothy Smithson of tech consultancy Visionary Partners. 'You can't suss out economic trends with a computer. For decisions this important, you have to go with your gut.'" [Slate]