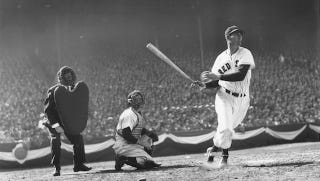 Every Friday, SportsFeat picks a few great weekend reads for Deadspin. In honor of Derek Jeter and his labored quest for 3,000 hits, here are well-told stories of ballplayers just before, in the years after, or at the exact moment they retired.
For a daily selection of top-shelf sports writing, both new stuff and classics, check out SportsFeat.com or follow @sportsfeat on Twitter.

John Updike • The New Yorker • October 1960
One of the most famous pieces of sportswriting ever, Updike's essay ends with Ted Williams's final at-bat:
Like a feather caught in a vortex, Williams ran around the square of bases at the center of our beseeching screaming. He ran as he always ran out home runs — hurriedly, unsmiling, head down, as if our praise were a storm of rain to get out of. He didn't tip his cap. Though we thumped, wept, and chanted ''We want Ted'' for minutes after he hid in the dugout, he did not come back. Our noise for some seconds passed beyond excitement into a kind of immense open anguish, a wailing, a cry to be saved. But immortality is nontransferable. The papers said that the other players, and even the umpires on the field, begged him to come out and acknowledge us in some way, but he refused. Gods do not answer letters.

Every true story has an anticlimax. The men on the field refused to disappear, as would have seemed decent, in the smoke of Williams' miracle. Fisher continued to pitch, and escaped further harm. At the end of the inning, Higgins sent Williams out to his left-field position, then instantly replaced him with Carroll Hardy, so we had a long last look at Williams as he ran out there and then back, his uniform jogging, his eyes steadfast on the ground. It was nice, and we were grateful, but it left a funny taste.
What Is Rickey Henderson Doing in Newark?

Tom Verducci • Sports Illustrated • June 2003
The great stories of Henderson's major league career, told against the backdrop of his hoping for a final shot:
The legend of Henderson is real, all right, as real as the check-cashing service with the metal security gates on Broad Street in downtown Newark, which is about all the local color there is in the neighborhood of the mostly empty Bears & Eagles Riverfront Stadium, home to the Newark Bears of the independent Atlantic League-and, at the moment, to Henderson.

"We need to shift the ballpark to another location or something," he says.

At age 44 the future first-ballot Hall of Famer is here on the wrong side of baseball's tracks, not to mention those of New Jersey Transit, whose cars clackity-clack a pop fly away from his leftfield post. He signed with the Bears on April 24 and has come to downtown Newark for one last shot at the major leagues, which makes him, in every sense, an urban legend.