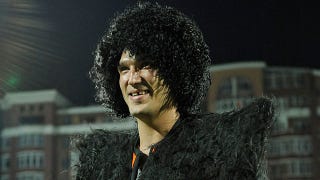 Your p.m. roundup for July 26, the day we passed on ordering pink beer. H/T to Ian for the photo. Got any stories or photos for us? Tip your editors.
What we're watching (all times EDT, unless noted): There are three baseball games on the national schedule tonight: Giants-Phillies or Mariners-Yankees on MLB Network (both at 7 p.m.), plus Cubs-Brewers on WGN at 8 p.m. There's also a soccer friendly on ESPN2, with Italy's Juventus taking on Mexico's Club America at Citi Field in New York, which starts at 8 p.m.
Trade Fucking Deadline!
Ken Rosenthal throws some shit against the wall: "The White Sox do not figure to become outright sellers, not when they're only 31/2 games out of first place in the AL Central. But owner Jerry Reinsdorf wants to trim payroll, according to a major-league source." [Yardbarker]
Breaking: Nothing has changed. "They are just rumors" [@JimBowdenESPNxm]
Alex Anthopoulos is talking to a lot of people: "As usual..." [@Buster_ESPN]
Read Me: Today's Story That Doesn't Suck
"How could a woman go missing inside her own home?": "The call to the Sheriff's Office came on Nov. 18, 2010, just before noon. The townhouse, deputies learned, had belonged to a woman named Kathryn Norris, and the 1987 silver Chevy Nova was registered to her, too. She had used a normal amount of electricity in July 2009 and much less in August and none after that. She had paid her mortgage in August and then stopped. Her head was on the floor and her feet were on the seat. The corpse, deputies wrote in their report, was wearing a dress. Television trucks showed up. Local reporters talked to her neighbors. The neighbors said that they seldom saw her but that for more than a year they hadn't seen her at all. One called her 'a little strange.' Another said she 'just disappeared.'" [TampaBay.com]
This Date In Deadspin History
July 26, 2008: What Do You Mean My Buds Don't Play? Deal The Damn Cards