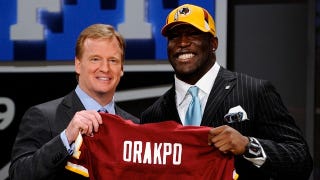 Brian Orakpo can't quite find the words he's looking for. But the words he did give us help explain why the players didn't get more in the just-ended labor standoff.
All of the wrong words via CSN Washington:
We want to focus on the team. I thought last year and the previous year, we talked too much about individuals that were having problems with the organization instead of trying to go out there and perform well.
On Albert Haynesworth:
He's still under contract, so I expect him to be here. This year, we're not going through all that Albert nonsense. If he's here, if he's not, I don't want to discuss it.
He's a great person and phenomenal athlete when he's on the field and ready to go.
Orakpo doesn't have to throw the faint praise Albert Haynesworth's way. It's altogether possible Big Al's a dick. For instance, he defends himself against sexual assault charges by saying he doesn't like black girls. This is not a thing that great people do.