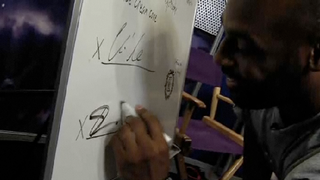 Your morning roundup for July 30, the day we're provided with living proof that 32-year-old women are, in fact, into 83-year-old men. Got any stories or photos for us? Tip your editors.
What we watched: Generally, jersey-number exchanges between rostered players and the newest free agent/trade arrivals don't merit much, if any, attention except for the beat guy's as he scrambles to fill out the all-important notes package from camp. But this video of Chris Kluwe and Donovan McNabb closing negotiations for Kluwe's No. 5 Minnesota Vikings jersey does.
Because it's Kluwe, who's been the focus of a wee bit of attention 'round these parts lately. Because it features borderline-sloppy handwriting on a white board. And because in addition to the requirement that McNabb shout Kluwe's band Tripping Icarus out at five "non-consecutive press conferences" and donate $5,000 to the punter's favorite charity, he must also purchase, for said punter, exactly one ice-cream cone.