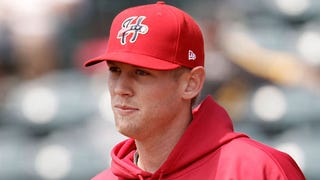 A year ago at this time Rob Dibble was in the news for his contrarian opinions on Stephen Strasburg. Rob Dibble's in the news again for his contrarian opinions on Stephen Strasburg. Except this time it's the exact opposite contrarian opinion. What we're saying is, it's a good thing Strasburg's career choices is being dictated by a team of medical and organizational minds instead of a semi-employed Rob Dibble.
Last time it was Dibble calling Strasburg out for going on the disabled list, and for "complaining over every little thing." That little thing turned out to be a torn ligament needing Tommy John surgery, so it's another good thing that Dibble isn't licensed to practice medicine in the District of Columbia. (To avoid having to use this sentence construction again, let's just make a blanket statement that it's a good thing Rob Dibble doesn't have any power.)
Strasburg's set to make his first minor league appearance this weekend, aiming toward an eventual September return. This has been the timeline since at least the beginning of the season. But Dibble disagrees:
"Just because these guys are younger, it doesn't change the fact that for the most part, the majority of Tommy John guys, it takes them 18 months to 24 months to be 100 percent. Now, you may feel great, you've got a new tendon in there, new ligament, all that kind of stuff. You've gotten the injury fixed. But there's absolutely no reason, other than to sell tickets and to put butts in the seats, to bring Stephen Strasburg back to make a few starts at the end of the season."
Last year we made the mistake of treating Dibble's comments like they had a basis in something, and tried to delegitimize them. We won't make that mistake again — Dibble is just doing what Dibble does, talking loudly to get a reaction. But we have to say he's not completely wrong.