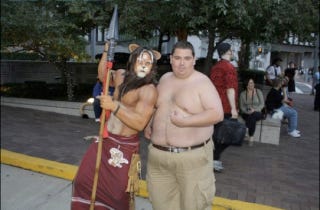 Here's the title of a post from The Hockey News this morning: "Rescheduling of 'Furry' convention in Pittsburgh points to Penguins hosting 2012 NHL Draft." Oh really? Go on:
The bumping up of a major niche convention in Pittsburgh lends credence to widespread rumors the city will host the 2012 NHL Draft.

The Penguins are known to be interested in hosting the draft, which would be held at the recently opened Consol Energy Center, but team has also stated it plans to hold a number of other events in the preceeding week if given the opportunity.

Because of the expansive nature of the planned festivities, the city required the use of its convention center, which had already been booked for the June 21 to 24 by Anthrocon, an annual gathering of Furries.
If you're not familiar with what a Furries Convention in Pittsburgh looks like, please take a look at this link. It's remarkable scenery.