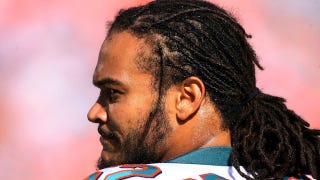 Miami released Crowder, its trash-talking linebacker, two weeks ago, and Crowder decided to retire today.
His explanation makes an odd sort of sense:
"I woke up, saw my pregnant wife, and all the teams talking to me are way up North, and I said, 'I don't want to do it,' " Crowder said on the Sid Rosenberg Show. "I looked at my wife and said, 'Nah, I'm going to be a family man now.' "
[...]
Crowder said Patriots coach Bill Belichick said he still had a spot in the league, but he called the free agency process "emotionally draining."

"I've got plenty of money saved," he said. "It's just not worth it."
Saved money? What is this? Have other professional athletes heard about this?
Anyway, we'll miss Crowder, because he had a knack for saying things that were somewhere between crazy, refreshing, and on point. To wit, this, from November 2010: