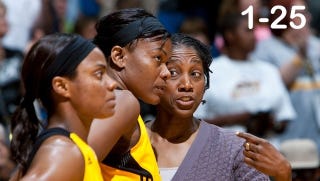 Last night, the Tulsa Shock lost to the Seattle Storm, 74-57. It was their 20th consecutive defeat. Like UConn as it closed in on UCLA's record college-basketball winning streak, the WNBA team is within reach of the longest losing streak in NBA history, 26 games, set by the 2010-11 New Jersey Nets Cleveland Cavaliers.
If the Shock keep losing—their record stands at 1-25—they would tie the Nets' Cavs' mark against the Phoenix Mercury on Sept. 8 and break it against the Los Angeles Sparks on Sept. 9.
Tulsa's current winning percentage of .038 is lower than the 1972-73 Philadelphia 76ers' mark of .110, the worst in NBA history. The Shock would have to win 3 of their remaining 8 games to be better than the Sixers.
The Shock's single win so far this season came 39 days ago, on June 18, when they defeated the Washington Mystics 77-59 at home in front of a crowd of 4,400. Since they moved to Tulsa from Detroit two seasons ago, the franchise record is 7-53.
It does not get much worse than this.
The hero of the Shock's miserable season, by my measure, is their indefatigable team reporter, Danielle Parker, who has written game story after game story through this singularly bleak stretch of basketball history. The Shock have lost their 25 games by an average margin of about 15 points—the high being a 39-point blow-out against the Phoenix Mercury on July 10. On July 15, seven games into the streak, they gave up an 18-point lead to the L.A. Sparks and lost. Just over a month later, they gave up a 15-point lead to the same team for their WNBA-record-breaking 18th consecutive loss. Each time, Parker has found something to say.
I don't know if we should consider this a skill, but I can say from personal experience that it is a rather miserable task. When you're writing for a losing team—never mind if it's your own team—you start to look at the box score differently. You're not looking for notable stats in any traditional sense; you're looking for stats that might make the bleakest picture a little brighter.