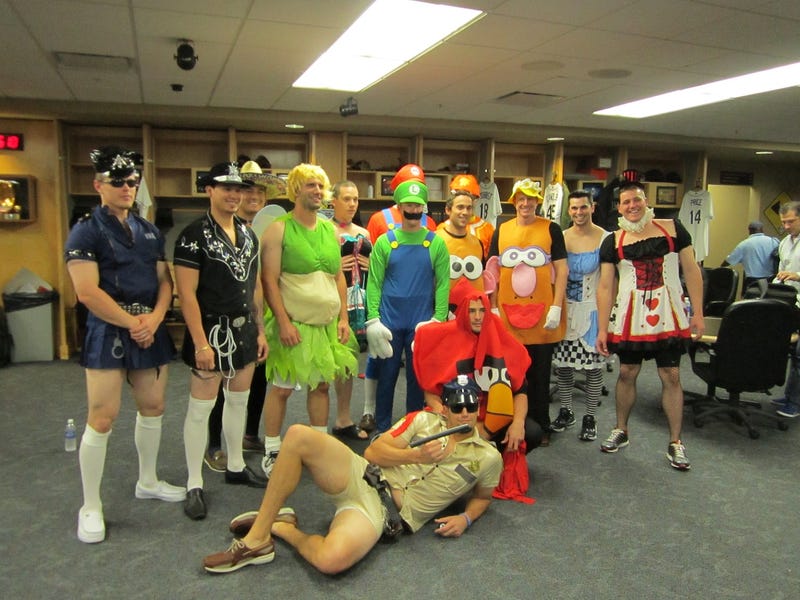 Forcing rookies to dress in costume is an MLB tradition that's as childish as it is time-honored. A gloriously dumb reminder that most baseball players are manchildren, forever stuck in high school. We are too; it's a major reason baseball players are perhaps easier to connect with than athletes in any other sport.
The hazing ritual is usually reserved for the day before the last road trip of the year. All the team's rookies are forced to dress up in either a coordinated theme or a mishmash of glam nightmares, and then go out and sign autographs. Some teams have gotten an early start, while others have yet to reveal their big plans. Here, a collection of 2011's most fashionable rookies.
Above, the Rays were apparently let loose in a Halloween superstore with 100 bucks. Lt. Dangle up front is having slightly too much fun.
The Twins also show a distinct lack of coordination, featuring a mishmash of cartoon characters, barnyard animals, and "an unidentified rookie as Gumby." (Thanks FOXSports!) Did they have to make the Japanese guy a sumo wrestler?
We featured the Nationals as Smurfs last night, but here's another shot from the Nats' PR staff. With Stephen Strasburg as Papa Smurf, and Wilson Ramos as Smurfette with a $5 bill sticking out of her pants. Also, crotch bulges everywhere.