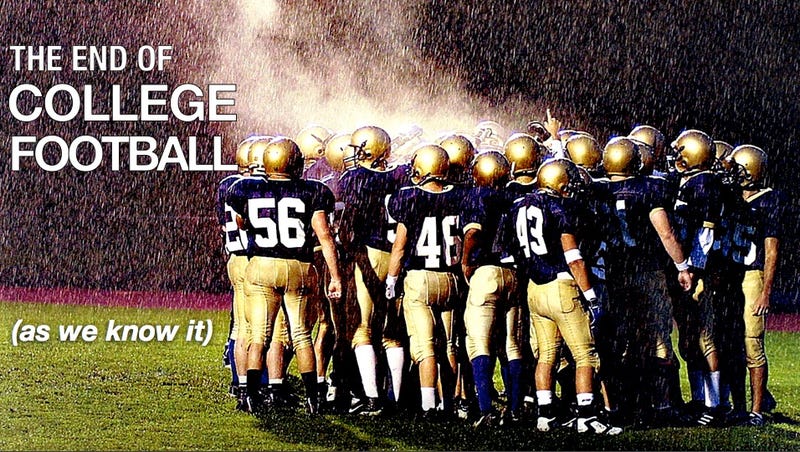 Everywhere is crisis and change, but mostly a constant questioning of what college football has been for a generation: an amateur sport that makes a lot of people a lot of money. The attacks are coming on all sides at the same time, and they are rapidly becoming too much for the sport to survive without addressing. The events of 2011 are more than an embarrassment to be moved on from; they are signs of an environment becoming inhospitable to how the NCAA likes to do business. We're in the death throes of an era.
Remember the educational film Powers of Ten? A Chicago picnic pans out to become the universe. Here, everything that's wrong with college football starts with money. Money going to the wrong people, money not going to the deserving, and that money is the universe, even zoomed all the way out.
You build it all around money, the basic unit of matter. You take a player blessed with talent and you tell him all his life that this talent will make him a lot of money. You show him everything money can buy: state-of-the-art stadiums, locker rooms, nightclub outings, rich boosters and alumni. You get him to come to your school, and he makes money for you, but one day he's offered some money for himself.
You tell him it's his fault that you built an entire system designed solely to make sure he can't take that money.
The Terrelle Pryors and Cam Newtons, the star players who get caught collecting star benefits, are made out to be the bad guys, and they're not. Maybe they're bad guys, but there's no morals clause in life. What they are is free labor, so they're perfect patsies for the cops-and-robbers games of the NCAA. The coaches aren't the bad guys either. They're still beholden to the laws of the universe, even if they're allowed to take the money they're offered. Think of Bill Stewart, using the media to protect his own ass and paycheck. Or Jim Tressel, loyal to the last.
Zoom out, and we remain at Ohio State. The athletic director never used to be a household name, but Gene Smith is a celebrity. Now Gene and his colleagues are part bureaucrat and part spin doctor, deflecting blame from their bosses. They read out the companiest of company lines, their job to keep the sports problems within the sports realm and stop them from sullying the hallowed educational half of student athletics. Beset on all sides by reporters smelling blood, they are overmatched. And when they fail, we zoom out even further to college presidents like Gordon Gee and Donna Shalala, talking football.