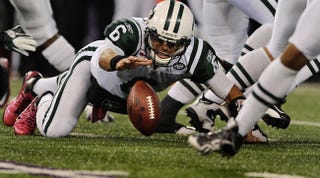 There was a moment during last night's Jets-Ravens game—a wacky, interminable affair that had so many turnovers, penalties, and replay reviews that one would have been better off watching baseball for crisp play—when it became clear that Joe Flacco and Mark Sanchez are running the NFL's most successful con. Flacco sack-fumbled in his own territory, and then, on the next play, Sanchez threw a pick-six.
The effective NFL quarterback is the quarterback who doesn't make mistakes, especially on these rosters. Alas, this season, Flacco has thrown three picks and fumbled three times. Sanchez has thrown five picks and fumbled four times. Each helped the other team score most of its points last night.
But both quarterbacks are in place, unthreatened, because they provide that piquant whiff of a franchise quarterback.
The two are kindred spirits even before the games start. They're high draft picks with red-flag college careers (Flacco's was troubling because he transferred to a I-AA school; Sanchez's because he only started one season), strong arms, "mobility," and "poise." Flacco is in his fourth year; Sanchez is in his third. More importantly, neither quarterback does much to help his team win.