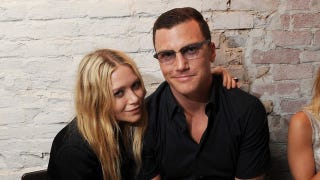 The New York Rangers waived fashionisto-cum-agitator Sean Avery this week, and today he cleared waivers and left the team. Aww.
Because Avery cleared, it seems likely he won't have an NHL job this season, and we can't imagine him toiling in Lowell, MA or Hamilton, Ontario for an AHL team, awaiting a call from one of the big clubs. His agent tells ESPN that he'll be exploring opportunities in Europe. All of which is to say that we might have seen the last of Sean Avery in the NHL. And that's a shame, because he's provided us with so much strange comedy over the last few years.
Avery was always a nagging, fame-craving presence—he interned at Vogue in 2008—but he burst onto the national stage after he heckled Calgary Flames defenseman Dion Phaneuf for dating Elisha Cuthbert, Avery's "sloppy seconds." He was suspended indefinitely by the commissioner and dumped from the Dallas Stars shortly thereafter.