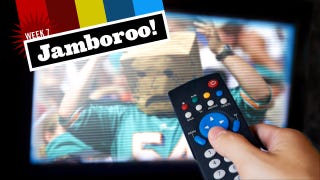 Drew Magary's Thursday Afternoon NFL Dick Joke Jamboroo runs every Thursday during the NFL season. Buy Drew's new book, The Postmortal, through here. Find more of his stuff at his Twitter feed.
There are three winless teams in the NFL right now—Miami, Indianapolis, and St. Louis. The Rams have been devastated by injuries. The Dolphins are clearly mailing it in to get Andrew Luck. And everyone is eager to kick the Colts in the fucking throat while they're writhing helpless on the ground. These three teams are hopeless. They aren't going to turn it around. If they're lucky, they'll eke out a few wins and scrounge up a 4-12 record to walk away with at the end of the season. They're done.
And that's where being a Colts, Rams, or Dolphins fan gets a little bit dicey. As we've said here before, one of the reasons the NFL has become such a success over the years is because it's managed to make people fans of EVERY team, and not just their own. The problem is when your passion for the league in general threatens your passion for your childhood team. Ideally, your love for the Dolphins or whoever is supposed to override that of any other team. But man, that's hard to do when your team is 0-5 and starting Matt Moore at QB.
With the advent of fantasy football and Sunday Ticket, there is an ungodly temptation every Sunday to abandon your team in favor of an objectively better football game or for Red Zone Channel. My team is currently 1-5, and Lord knows I feel the urge to wipe them off the face of my television forever. You KNOW other games are going on right now. You KNOW that you can end your pain any moment by simply changing the channel and delighting in watching better teams, teams that actually know how to throw a pass on third down. UNLIKE THE FUCKING VIKINGS AND THAT CUNTFACE MCNABBB AND GAHHHHH I HATE THEM I HATE THEM I HOPE THEY BECOME THE LOS ANGELES KIMMELS AND THEN CALIFORNIA IS DESTROYED IN A 14.5 EARTHQUAKE/LAVA TSUNAMI.
You can hear the siren song of those other teams pulling you away from the one team you've supposedly professed loyalty to. You know there's a much more enjoyable party to attend than the shitheap you're at. And the only thing keeping you from switching the channel is the fear that, by abandoning your team, you're nothing more than a piece-of-shit fairweather fan. The idea of being a "true fan" is a strong one, one that keeps you watching the Dolphins and Jets on Monday night even though, in your heart of hearts, you really don't want to.
Half the time, I think I'm an idiot for not changing the channel. I sit there watching my team look like a slow kindergartener hitting himself in the face with a saucepan and I'm thinking to myself, "Why am I doing this? Life is too short for this bullshit. I should be doing something with my life, like watching a Chopped rerun." But I stick around anyway because of this demented "good fan" mentality, as if changing the channel somehow makes me disloyal, or a complete pussy. And I know there's supposed to be a certain purity in just wanting your team to win and seeing them prevail even when they're out of contention, but I dunno. Fuck that. If you're a Miami fan, you know damn well it wasn't worth slogging through six wretched losses just to see your team triumph over the fucking Broncos in Week 7. That's not an even payoff. It doesn't make up for all the shit you had to eat.
I'm not gonna lie: I didn't watch all of the Sunday night game last week, even though my team was playing in it. Once it was clear my team was getting its ass kicked, I went to bed. And you know what? I don't regret it. The only thing I missed was seeing McNabb get pulled because McNabb is awful, but I just recorded that shit and watched it the next day on a loop while shaking my penis at the TV screen. If cutting the game short makes me a shitty fan, so be it. I can live with that. I didn't want to keep watching.
And if you're a Dolphins fan and your team is getting killed, you shouldn't feel obligated to stick around either. Embrace your inner fairweather fan. Treasure it. A lot of people have bemoaned the fact that fantasy football has eroded fan loyalty. Well, you know what? WHO FUCKING CARES? Seriously, what does it really matter if you're a good fan or not? If it's more fun to switch over to a game featuring your fantasy players, no one is gonna fucking DIE. The purity of America won't be tarnished forever. It says nothing bad about you as a person if you don't feel like watching a 2-13 team play in Week 17, or if your 0-6 team is losing 40-0 at the half. It just means you aren't a braindead masochist. So go right ahead if it makes you happy.
Unless you're a Colts fan. If you're a Colts fan who's been spoiled for the past decade, YOU WILL SIT THERE AND WATCH YOUR SHITTY SEASON AND YOU WILL TAKE IT.
The Games
All games in the Jamboroo are evaluated for sheer watchability on a scale of 1 to 5 Throwgasms.
Five Throwgasms
Falcons at Lions: I watched "The Walking Dead" the other night and I was riveted the entire time. My spincter didn't unclench until the final commercial break. Then reader @pav20 directed me to this fantastic Videogum post that rips a firm poop chute in every plot hole on that show, and I'm pretty sure I can never watch it again. All the kickass zombie action distracted me from the fact that I'm apparently watching "The Killing". If the zombies are attracted by noise, why are people even TALKING? I'd piss into my socks, I'd be so afraid of drawing attention to myself. And why is everyone wasting time praying in a church and yelling at Jesus? ZOMBIES ARE AFTER YOU. It's clearly been established that God has forsaken you. Leave.
Four Throwgasms
Bears at Bucs (in London): My kid had a playdate over the other day, and I had just eaten like, an entire basket of pears because I was hungry and we were all out of Sun Chips. So I've got these pears in my system and I start carpetbombing the house with farts. One after the other. Each one worse smelling than the last. It smelled like the scrambled eggs at an Atlantic City breakfast buffet. And my wife was like, "STOP THAT!" And I was like, "Why? It's not MY playdate. I can fart as I please." Meanwhile, the two kids are trying to do Scooby Doo drawings while I'm slowly gassing them to death. I guess farting during playdates is wrong.
Chargers at Jets: Seven kickers this season, including the Jets' Nick Folk, haven't missed a single field goal all season long. A dozen kickers have hit 100% of their 50+-yard attempts. Seventeen kickers have hit 100% of their 40+-yard attempts. I have no useful insight to draw from these stats. I just wanted to make it look like I did lots of research. WE ARE IN THE GOLDEN AGE OF KICKERMANIA.
Three Throwgasms
Texans at Titans: A few weeks after I bitched about FOX's in-game graphics, they now provide score alerts every time someone in another game scores and, most important, they tell you who scored and how. I can't stand sportswriters who spend all day patting themselves on the back. On the other hand, YOU ARE WELCOME, AMERICA. NO NEED TO SEND ME ENVELOPES STUFFED WITH CASH AS A SIGN OF GRATITUDE, THOUGH I WILL ACCEPT THEM JUST TO BE POLITE.