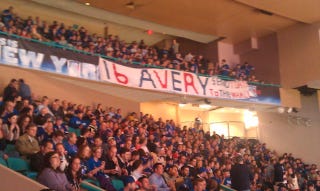 OK, so he may not have physically been there, but Avery's presence was felt all the same.
The Rangers, thanks to the ongoing renovation at the Garden, played their first home game this past Thursday. They lost to Toronto 4-2. The fanbase's discontent was palpable and before the game they sent a message with the sign you see here. It also says "Send Torts To The Whale."
In the waning moments of the game, fans began to serenade the home team with a "We Want Avery" chant. I'm sure they also gave Denis Potvin his due.
After the game, King Henrik was asked his thoughts on the notorious instigator and said although "Aves is one of a kind" the front office thinks "this is the best team."