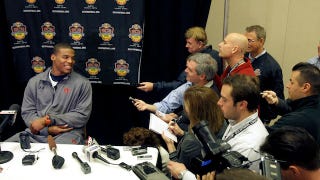 A few months ago, we asked Auburn for all correspondence between the media and the football team's spokesman, Kirk Sampson, during the Tigers' 2010 season. We weren't looking for anything specific; we only wanted to get a sense of what it's like on the inside when the press descends on one story—in this case, a national championship run featuring the best player in college football—and instead finds itself covering something very different—a play-for-play scandal involving the same player.
What is it like? Here's ESPN's Joe Schad, emailing Sampson on Oct. 25, 2010 (10 days before Schad's colleagues in Bristol reported that a man allegedly representing Newton sought a six-figure payment for the player's services):
I'm so jacked for that game, man

I have been tweeting about Cam/Heisman and about how Auburn is the best environment in college football right no!

Hope you've seen that stuff at twitter.com/schadjoe

I've compared Cam to an Avatar character (beast!) and talked about Auburn's scenes

I cannot wait to come back!!!

Joe
And now here's CBSSports's Dennis Dodd, emailing Sampson on Nov. 9:
This stuff has been absolutely ridiculous. I realized it when I found myself Tuesday writing about Cam's 12 traffic tickets at Florida. Am I sick? Are we all sick?

See you soon.

dd
A sampling of the emails are below. Follow along as we go from "so jacked" to "sick" and back again, all in a matter of months.
Sept. 17 & 25, 2010: Cam Newton, a transfer from Florida by way of a Texas junior college, is making a name for himself. But what name, exactly?
Sept. 24: Auburn is undefeated, and everyone is happy, and Gene Chizik is spamming Jim Rome.
Sept. 27: Auburn is 4-0, having just beaten 12th-ranked South Carolina (with Newton putting up 158 yards and two touchdowns through the air and 176 yards and three touchdowns on the ground). The "laptop deal" recedes further into the generalized past. It belongs to the Cam Newton/Auburn metanarrative now—it's "the turning point," the roadblock, the Bad Thing that had to be overcome, the personal trial that turned the boy into a man.
Oct. 10: ESPN's Chris Low is full of sunshine:
(I asked Low about the "blood samples" bit. He explained in an email: "Just some inside humor between us aimed at some of the new media credential policies out there.")
Oct. 18: Auburn is now 7-0. Media requests are rolling in. ESPNU will be in town and wants to know if the players might do something "fun" for the cameras, something organic and spontaneous, something that conveys the personality of the team—"like the hotdog eating contest we did at Texas."
Oct. 18: ESPN's Chris Low is still full of sunshine:
Oct. 19: A TV producer would like to "show 'Cam's softer side'" and follow him around during one of his apparently regular visits to a local elementary school.
The scare quotes signal that the story that lies between them—"Cam's softer side"—will be as canned as anything made by Dinty Moore. I love those scare quotes. As a commentary on the TV news business, they are worth a pile of Paddy Chayefsky scripts.
That same day, Pat Forde writes in to say he's sorry about a mistake in his column. Even ESPN curtsies now and then.
Oct. 23: Auburn beats LSU by a touchdown, taking its record to 8-0. Newton racks up 217 yards on 28 carries against a very good LSU defense. Here's The Montgomery Advertiser's Jay Tate:
Oct. 25: ESPN's Joe Schad and Sampson have the following exchange in which the former pronounces himself "so jacked," pimps his own Twitter feed, and generally expresses himself in such a way that it's difficult to tell the reporter from the flack.
(Jay Jacobs is the Auburn athletic director.)
Oct. 27: Cam Newton has gone national. Lars Anderson profiles him for Sports Illustrated (last line: Cecil Newton's "boy has become the man.") Auburn is so pleased with the story it would like to purchase 100 copies of the issue.
Nov. 1: The Houston Chronicle wants a piece of Cam, too.
Nov. 2: A Birmingham TV person wants to do some "nice" interviews for a "nice" in-depth story for sweeps.
Our scare-quoting TV person is back, still determined to show Cam Newton taking his "softer side" for a spin around a local elementary school. He writes: "Possible pitch to Cam: When people see 'high-profile' folks giving back, it might encourage them to do the same...." (And thus did the flack get flacked.)
But wait! The idea has spread:
Auburn's flack has a solution:
Nov. 3: Auburn's trouble begins. The Orlando Sentinel's Mike Bianchi has two sources who say Cam Newton was caught cheating at Florida.
(Bianchi is so polite about confronting Auburn with this information that he even proposes a way to spin the story, i.e. "... perhaps explain that he has grown up since then and that's one of the reasons he wanted a fresh start.")
Nov. 4: And then the big story drops. It's written by Pat Forde, Chris Low, and Mark Schlabach: "During the height of star quarterback Cam Newton's recruitment out of junior college last year, a man who said he represented Newton allegedly was soliciting a six-figure payment to secure his signature on a national letter of intent, ESPN.com has learned."
There's a flurry of emails. Charles Bennett of the The Anniston Star:
The Houston Chronicle:
Dennis Dodd, CBSSports's national college football writer:
Nov. 8: Maybe now's a good time to show "Cam's softer side"? TV people are the best.
On the night of Nov. 8, Fox Sports breaks the very story that the Orlando Sentinel's Mike Bianchi is working on (per the Nov. 3 email above). Thayer Evans's report begins: "Auburn quarterback Cameron Newton had three different instances of academic cheating while attending the University of Florida and faced potential expulsion from the university, according to a source." (Here's how Bianchi covers it).
Nov. 9: Auburn goes on the offensive. Athletic director Jay Jacobs calls the recent stories "unfortunate and sad because they seem intent on tearing down the reputation of a young man." Chizik adds: "I'm wasting my time addressing allegations that completely, to be frank, blow my mind."
Meanwhile:
"Dear PR person: Would you happen to know of any journalists who could cover in a scrupulous and probing fashion this PR crisis you're currently managing?"
This is the one that gets me, though:
He's talking about this story. I admire mainstream journalists who cover big-time college football for a living. I really do: Their job is a professionalized cognitive dissonance, and anyone who can do it even reasonably well without going totally bughouse nuts has more steel to him than I do. College football writers have to celebrate and promote a sport whose very existence gives rise to the petty fraud that they're required by occupational custom to police, all while maintaining the Serious Journalist's pose of conscientious, Olympian remove. They are the guys playing tinkly pianos in a whorehouse anteroom, and Dodd's email is what happens when one of them looks up and realizes he's not exactly working the Royal Albert.
"Am I sick? Are we all sick? See you soon." College football, in three sentences.
The story is metastasizing. ESPN's Joe Schad emails the Auburn spokesman a fat chunk of a report that will run the following day in which Cecil Newton's involvement becomes clear:
Here's how the published version reads:
Two sources who recruit for Mississippi State said that Cecil Newton and his son, quarterback Cam Newton, said in separate phone conversations that his college choice would be part of a pay-for-play plan while Newton was being recruited late last year.

Mississippi State compliance officials relayed the alleged conversations to Southeastern Conference compliance officials in January, according to two other sources close to the football program.

Prior to Newton's commitment to Auburn, one of the recruiters said Cecil Newton told him it would take "more than a scholarship" to bring his son to Mississippi State, a request the source said the school would not meet. Cecil Newton also referred the recruiter to a third person who would provide more specifics, the source said.

After Newton committed to Auburn, another source said an emotional Cam Newton phoned another recruiter to express regret that he wouldn't be going to Mississippi State, stating that his father, Cecil, had chosen Auburn for him because "the money was too much."

The NCAA is investigating allegations surrounding the Newtons in regards to the recruiting process. Cam Newton, who is having a Heisman-caliber season for No. 2 Auburn, declined comment.
Nov. 10: Newton is suspended. This is kept so quiet that no one knows about it until November 2011.
Auburn, in the midst of everything, still wants those 100 Sports Illustrateds.
Nov. 11: Newton is quietly reinstated.
Joe Schad again:
Forget about his promise not to "grill" Chizik. Look at that parenthetical: "(I'm sure he'll say he's focused and practiced well, etc)." That's incredible—not only is he scripting the interview right in front of the flack, he's scripting a studiedly boring interview, an interview so boring that Schad gives up after a clause and sticks an "etc" at the end. So not jacked.
Other media outlets begin neutering themselves as well:
Auburn starts laying down some ground rules on interviews—the "Cam situation" is apparently off-limits. And you know what? I might disagree in principle on the worthiness of NCAA scandal reporting, but kudos to ESPN for saying, "Screw your ground rules" ...