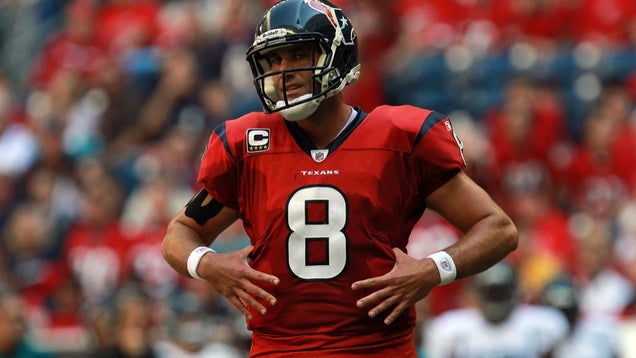 S
Man, football is weird, huh? If the season ended today, the Houston Texans and Cincinnati Bengals would be the two top seeds in the AFC playoffs, and that's peculiar. Neither of those teams made the playoffs last year, if you'll recall, and neither one has won a playoff game in a long time. (Houston has never even appeared in a playoff game in its nine years, and Cincinnati hasn't won a playoff game in 20 years.)
Thing is, Cincy has four games left against the Steelers and Ravens, two teams better than the Bengals, per Football Outsiders' rankings. They also have a game against the Texans. The Bengals could pretty easily lose all five and wind up 9-7, perhaps out of the playoffs.
But how 'bout those 6-3 Texans? Remaining, for them: Tampa Bay, Jacksonville, Atlanta, Cincinnati, Carolina, Indianapolis, and Tennessee. Atlanta and the Bengals are the only ones in that bunch with winning records. Per the Outsiders, Houston's better than all of those teams. The Texans haven't lost since a spanking in Baltimore, four games ago, and it's likely that they won't lose again. Many of their wins have been big—they beat the Colts by 27, Titans by 34, and Browns by 18—and many of their losses close—by five to Oakland, in the wacky Al Davis Memorial game, and by seven to the Saints.
I know, I know what you're saying. Houston shits the bed every year and goes 8-8. Matt Schaub is so bald and bland. Andre Johnson's still injured. Mario Williams will be injured for the entire season. Gary Kubiak is Gary Kubiak. But, jeez, look at that bunch of games remaining. Maybe the guy with that tattoo knew what he was doing. Houston's real.
Real enough to lose to the Jets or Ravens in the divisional round, anyway.