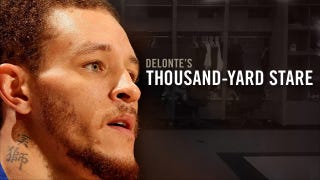 I started working on The Whore of Akron in June 2009, before LeBron's walk year began. No one at that time saw much evidence that he was actually going to walk, not until after the Cavs lost to the Celtics in the second round of the playoffs and he started talking about "my team" in reference to the geniuses who brought us The Decision.
In fact, the most compelling storyline of the Cavs' 2009-10 season wasn't LeBron James, or Shaquille O'Neal. It was the saga of Delonte West, starting with his arrest on Sept. 17, 2009, when he was booked on weapons charges. West was pulled over while riding his trike on a D.C.-area highway armed with a 9mm Beretta, a .357 Magnum, a Remington 870 in a guitar case, 100 rounds of shotgun ammo, and an 8-inch Bowie knife.
On the Cavs' Media Day a few weeks later, West sloughed off the arrest as no big thing. Not long after that, in the locker room before a preseason game, he verbally assaulted a reporter after the reporter asked him how he was doing. "Step the fuck off," he snarled. "Motherfucking faggot. Fuck you." The team's media relations people cleared the room and denied that any such incident had occurred. The journalists covering the team agreed among themselves to ignore what had happened.
What had happened was no mystery. West had revealed the season before that he suffers from severe bipolar disorder. And now he was off his meds.
It wasn't treated by the organization or reported by the media like any other illness or injury. It was as if a large dysfunctional family had agreed that Uncle Delonte and his illness were a horrible, inexplicable embarrassment, and the entire family was better off pretending that he was fucking invisible. Never mind that West's illness had a profound negative impact on the Cavs; Anthony Parker replaced West as the starting two-guard instead of playing the backup role he was signed for, and while Parker is a stable, steady vet, he brought none of Delonte's lightning on either side of the ball.
Nobody on the Cavs talked about it. Nobody in the press covered it. West never spoke of it—hell, he never spoke at all if the media was present. All season long, West was catatonic before and after games. He sat in silence in the middle of a loud locker room, staring into space, focused on nothing. Teammates, music, food, the pack of media hounds: West sat through all of it with a thousand-yard stare trained upon nothing visible.
Delonte's living image has stayed with me longer than LeBron's. I profiled Shaq during the course of the year, and Shaq talked about West with more admiration and respect than any other member of the team, including James.
"I don't know what bipolar means," Shaq said. "But basketball-wise, I want him in there. If I'm going to war, I'm taking him with me. Two minutes left, I want him in the game with me. He's got that dog in him."
By the season's end, the Cavs had imploded, and rumors about Gloria James, queen mother, consorting with West had gone nationwide. I never bought into it for a second, but I tried to walk it back and figure out if anything at all had happened to hurt the Cavs besides the Celtics' ferocity. What I came away with was that the team had partied all night and into the morning of Game 2, when they played like they were hung over and lost by double digits at home. They were hung over.