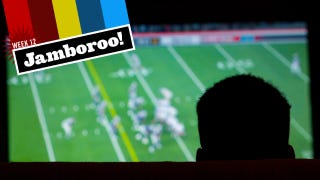 Drew Magary's Thursday Afternoon NFL Dick Joke Jamboroo runs every Thursday during the NFL season. Buy Drew's new book, The Postmortal, through here. Find more of his stuff at his Twitter feed.
I have two children. One is five years old. The other is two years old. Since they have existed, I have looked forward to the day when they are fully grown human beings who do not require my constant supervision and can wipe themselves without assistance. It's a dream, really. It's all so very far away.
But I was watching football the other day with the kids in the room, and the kids were bitching at me the whole game long to change it to Mickey Mouse Club or some other horrible shit, and two things occurred to me. ONE: I need to get my own apartment. TWO: It is not necessarily a blessing that these children will grow up any further. Younger children go to sleep around 7 or 8PM, unless you SUCK at being a parent. Once those kids are asleep, you can do ANYTHNG you want. You can watch grownup movies. You can watch grownup TV shows. You can think about making love to your spouse, but decide to surf the Internet instead. The world is your oyster. PRIMETIME IS STILL YOUR DOMAIN.
But older kids? Older kids don't go to bed that early. Just the other day I remembered that, by the time middle school came around, I was staying up later than my folks. I was demanding that they let me watch "The Cosby Show" and shit. Soon, my children will outgrow their bedtimes, and then I will LOSE my death grip upon primetime activities in my household. These kids are gonna get older and then they're gonna usurp all the TVs in the house and I won't be able to watch JACK SHIT. They'll dictate what movies we watch (TWILIGHT). They'll control the DVR (They kind of already do). They'll colonize all sedentary activities and leave me over in the corner, reading a fucking book like an old man in a rest home. Even if they have an iPad or a laptop, they'll find a way to use it and the television all at once (I know I do). Just thinking about it right now is AGONY. I have to go have a drink or something.
So this Thanksgiving, I'm grateful for the short time I have left as the Prime Time King of my home. Soon, it'll all go away. Pray for Mojo.
NOW DAN V, MAKE WITH THE SPECIAL THANKSGIVING THROWGASMS.
The Games
All games in the Jamboroo are evaluated for sheer watchability on a scale of 1 to 5 Throwgasms.
Five Throwgasms
Packers at Lions: Remember: This is the early Thanksgiving game, and Nickelback is the halftime entertainment despite the online petition drive. So if your cheapass grandma has no DVR (she doesn't), you've got 12 minutes at the half for dinner. Alternately, you could plan your meal so that you can either eat at the beginning of the Cowboys game (which isn't as good of a game), or so you can eat at the tail end of this game if it's a blowout. You can put the spread out at around 3PM, do some pre-gorging during the commercials, and then commence full gorging once you find a decent window of opportunity. Sometimes, I find myself actively rooting for a game to be a blowout so that I can focus on eating for a bit. Then I chastise myself for being a shitty football fan. It's the kind of existential crisis you might find in a Jonathan Franzen novel, or so I would assume.
Niners at Ravens: One issue I encounter pretty much every Thanksgiving is OVEN REAL ESTATE. Unless you're some fancy one percenter with two ovens in your home and a entire library of Barefoot Contessa cookbooks, you're looking at cooking fifty different items in a single oven, which is a BITCH. I've never gotten this shit right, and I'm usually the one who tries to wedge in the EZ Foil of extra stuffing next to the bird because its titty timer hasn't popped yet. All I know is that the sweet potato/marshmallow thingamajig and the white trash church basement green bean casserole need to be cooked LAST. Potatoes turn arctic circle cold after about three minutes out of the fucking oven. Half the time, I'm using the gravy as the primary heating agent for everything on my plate.
Giants at Saints: Every year we say this, and every year it still holds true: FOX needs to stop letting Bradshaw do the fucking halftime highlights. Every time he does them, he sounds like he's doing them for the first time. Like someone at FOX ran up to him at the last second and was like, "Terry! Everyone has the flu! YOU have to do the highlights!" And he's like, "What? Me? Why, I'm juss a daggum cuntry boy y'all! I can't work these fancee teevees!" I don't even think he watches the first half of games. I think the highlights are there specifically to get Terry up to speed on everything that's happened. "OH! Kevin Smith scored on that run? Well, I'll be!" Jesus Christ, CURT MENEFEE IS SITTING RIGHT THERE. What are they paying Curt for if they're not gonna fucking use him?
Four Throwgasms
Bears at Raiders: When I worked in advertising, the ad agency and the client would get together and create a style guide for whatever brand they were working on. And the style guide was there to tell designers how big the company logo should be, and what color it should be, and what not do with the logo (don't distort it, or add new funky colors, or show the logo tattooed on the inside of a woman's labia, etc.). The idea is that everything needs to stay uniform so that the brand is consistent. That kind of logic is what's behind the NFL's draconian uniform policy, and it's why they won't let Earl Bennett wear orange shoes even though orange shoes are cool as shit. But it makes no sense for the NFL to do it because there are so many brand elements already in place that orange shoes will have NO impact on the brand at all. The Bears logo still looks the same. The stadium and the NFL logo are still the same. There are enough consistent elements in there to allow for variation. What I'm basically saying is someone should take a shit in Roger Goodell's mouth.
Three Throwgasms
Dolphins at Cowboys: If you want the original Jamboroo breakdown of Thanksgiving, go here. I also did a big KSK thing on Thanksgiving way back in 2006. I'd just like to reiterate that the little over-fried fold of skin right at the opening of the stuffinghole is pretty much the greatest thing on Earth.