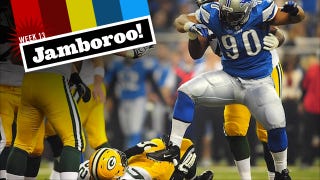 Drew Magary's Thursday Afternoon NFL Dick Joke Jamboroo runs every Thursday during the NFL season. Buy Drew's new book, The Postmortal, through here. Find more of his stuff at his Twitter feed.
The funniest thing I heard this season was right after Ndamukong Suh went all stompy stompy on Evan Dietrich-Smith, when Troy Aikman said, "There's no place for that in football." I know! I can't believe someone would act VIOLENTLY during a game of football! "You can't fight in here! This is the war room!"
Football is an inherently filthy sport, which is why we like watching it. Former DT Kris Jenkins admitted to The New York Times last week that, like Suh, he was no stranger to dirty tactics:
I've had my ankles twisted. I've been bit. I've done stuff. I've tried to break guys' elbows, pinching people, twisting ankles, trying to bend up their arms, pop an elbow out. Why? I had to fight back.
Of course, all that naughty stuff is usually hidden under the pile, away from your innocent eyes. If Jenkins had been caught on camera trying to break someone's elbow, I'm sure the Mike Lupicas of the world would have been ready with stern words and several hours of detention. Suh's little tantrum is a convenient way for fans and the media alike to differentiate between what they deem to be acceptable football violence and what they deem to be unethical football violence. But the truth is that football is a game of a thousand small assaults. Suh's just happened to be the most pure assault of the bunch, an act of sheer anger. We like that kind of anger when put in the context of an active play (how many times have you heard an o-lineman lauded for having a mean streak?). But the second it happens after the whistle blows, everyone acts like Suh just set fire to a retirement center.
I'm not excusing Suh here, by the way. He got the gate, and he got a two-game suspension, and that's all well-earned. I don't give a shit. I just think it's EASY to be outraged over his tactics while pretending the rest of the game is as genteel as the fucking Henley Regatta.
I played football for a while and I can tell you firsthand that the reason lots of guys "play dirty" is because it works. When a guy smashes your head into the ground and tries to stomp your ball-and-socket joint out of place, it really gives you something to think about the next time you square off. And it gives other players out there something to think about as well. You think the next guy to play against Suh isn't thinking about that attack? He knows damn well that Suh is a crazy motherfucker prone to going off at any moment. I'd be scared shitless, mostly because I'm a huge pussy.
Players who aren't dirty face a distinct disadvantage against scofflaws because dirty players violate your false sense of decorum surrounding the game. One time a dude hit me late on the field and didn't get flag and I was so OFFENDED by the idea of him doing that, that I could barely concentrate on anything else. "Did they not SEE what this ruffian tried to do to me? THAT IS NOT GOOD SPORTSMANSHIP!" Like a good trash talker, a good dirty player causes opponents to lose focus, to get distracted by their own sense of outrage and injustice. It's like going from the standard rules of engagement to guerilla warfare. SUH IS THE VIET CONG OF DEFENSIVE TACKLES.
And the thing is that most dirty players get away with it. Suh got suspended, but that kind of punishment is rare. There's a whole lot more shit out there that goes uncalled. You're not gonna see the finger-biter at the bottom of the pile get suspended any time soon. And so the average player is probably left to decide that, if the other guy is gonna do it, I may as well too.
So the next time Suh pulls this kind of shit, people in the media shouldn't be so surprised. They make it sound like trying to contain rage and violence into a tight little window is an easy thing to do. And they act scandalized when that rage finally seeps out onto the edges of competition. They shouldn't. It's a dirtyass game, and it always will be. Suh is just showing you how nasty it can get.
The Games
All games in the Jamboroo are evaluated for sheer watchability on a scale of 1 to 5 Throwgasms.
Five Throwgasms
Lions at Saints: The Saints tried a fake punt field goal on Monday Night, and they executed it perfectly. They caught the Giants off guard AND Chase Daniel completed the pass to Jimmy Graham. The only problem is that it was FOURTH AND ELEVEN, so Graham got dragged down before the first down. We talked here earlier about the idea that fake field goals may never be worth doing, and I had no clear answer because I don't like doing research. But I DO know that it's fucking stupid to design a fake field goal play featuring a pass that doesn't even reach the first-down marker. The element of surprise was USELESS on that play because the Saints had so far to go. The play has better odds of working at a shorter distance, but that also means that the defense is probably more attuned to the idea of a fake headed their way. I'm telling you: Fake field goals and punts will always ruin your shit.