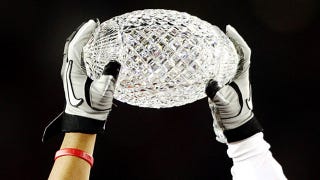 You say you're shocked—shocked—that the BCS standings aren't consistent, or some voters made dumb choices, or teams were selected for bowl games based on something other than simple merit. Hi! Welcome to college football! You must be new here.
The Harris Poll is out, and it's full of curios like Roy Kramer, former SEC Commissioner and creator of the BCS system putting five SEC teams in his top 11. But perhaps no one better exemplifies this whole sordid, screwy business than 80-year-old George Wine, who "doesn't do as much research" as other voters but still ranked Houston at number 5, ahead of Oklahoma State at 6.
Don't get mad at George Wine or his ilk. Without them, how would we so clearly illustrate that college football is the only major American sport beholden to the human element? The oh-so-fallible human element in deciding an outcome is what disqualifies things like figure skating and diving and dog shows from being actual sports, yet we accept it here. We get the system we deserve.
But we're losing the bigger picture. Just a few months ago, it seemed like the entire concept of amateur athletics was on the verge of collapse. The issue wasn't tattoos or tutors or recruiting visits, but the whole universe of unpaid labor and sham virtues. The air smelt of change, of real and honest revolution—and then that wave broke and rolled back. We've lost the thread and gotten tangled back up in the fringe minutiae.