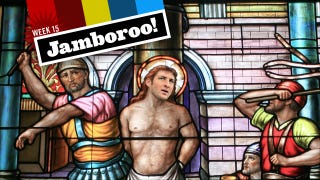 Drew Magary's Thursday Afternoon NFL Dick Joke Jamboroo runs every Thursday during the NFL season. Buy Drew's new book, The Postmortal, through here. Find more of his stuff at his Twitter feed.
Tim Tebow is not an underdog. It's important to remind people of that every now and again because the established media narrative for Tebow these days is that no one ever believed in him, that he arrived on the Broncos' doorstep as an aborted three-month-old fetus and, through the power of SuperJesus, built himself up from scratch into the some kind of magical fourth-quarter leper messiah. In truth, Tebow is only an underdog if you consider two factors:
1.) His throwing mechanics.
2.) The fact that his new team president and head coach didn't really want him.
That's what Tebow had going against him this season. If you want to turn him into football's David Eckstein because of those two things, be my guest. You'd merely be overlooking the fact that Eli Sunday here is a world-class athlete, a two-time national champion, a Heisman Trophy winner, a first-round draft pick, and a fucking millionaire. You'd also be overlooking the incredible amount of fan support that Tebow has gotten from Denver fans, Christians and non-Christians alike, during his entire professional career. Any other athlete in that position would be EXPECTED to succeed. Perhaps not in such dramatic fashion, but they'd certainly be expected to play well and win games. But somehow, because this is Tebow, the narrative is HOLY SHIT! CAN YOU BELIEVE LITTLE TIMMY TEBOW HAS BEEN ABLE TO PULL THIS OFF?! IT MUST BE THE WORK OF OUR BENEVOLENT CLOUD GOD!
That kind of thinking does a disservice to both fans and to Tebow himself, who is playing well late in games ON HIS OWN, and not because Invisible Jesus is standing behind him at all times, like a pervert golf instructor helping your wife with her swing. Trust me: there are plenty of tardbillies out there who think the latter scenario is the case, as evidenced by reader Matt:
This was taken from a girl's Facebook status, if not obvious.

"Inspiring, mentally tough, full of hope and humble beyond belief! God really is using Tim Tebow. AMAZING!"

I have no problem with Tebow except for this type of annoying analysis that people feel the need to share.
That's basically the whole Tebow thing in a nutshell. No card-carrying Tebow-hater like me has that much of a problem with Tim Tebow as a person. On his own, Tebow is a fairly harmless little goody-goody. And this Broncos run has been fun to watch. I even like it when Eisen and Deion do the TEBOW chant on the postgame show. It's all the bullshit SURROUNDING Tebow that many of us can't stand. It's people like Peter King essentially saying that there's no rational explanation for Tebow's success when there are PLENTY of rational explanations for it, namely the fact that he's a first-round pick blessed with incredible athletic ability. It's political pollsters asking Iowans about Tebow in a phone survey. It's all the unnecessary dreck that comes with and ruins what Tebow is doing, like this Rick Reilly column, which is worse than pancreatic cancer.