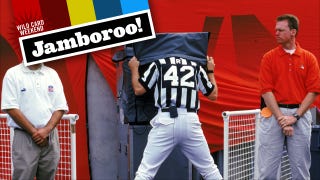 Drew Magary's Thursday Afternoon NFL Dick Joke Jamboroo runs every Thursday during the NFL season. Buy Drew's book, The Postmortal, through here. Find more of his stuff at his Twitter feed.
The playoffs are here! HAPPY HAPPY JOY JOY HAPPY HAPPY JOY JOY. Every year, the playoffs arrive, and every year, I pray for something controversial to happen that will spur radical offseason changes to the NFL rulebook. For example, before last season they changed the overtime rules so that each team got a possession, and then NO playoff game went into OT, because the playoffs were assholes last year. So I'd like that to happen this year (especially in the Super Bowl) so that people complain about the end result, regardless of what that result is. Also, I'd like to see some kind of insane replay controversy that causes the system to be overhauled, because the present replay system is completely fucked.
As of now, coaches have to throw a challenge flag any time they want a replay of something, unless A) There are two minutes left in the half, or B) Someone scored on the play. The fact that they ditch the challenge system under these two conditions is retarded. A critical turnover that's reviewed with five minutes left is, in the grand scheme of things, just as crucial to the outcome of a game as a turnover that's reviewed with 40 seconds left to play. By opting out of the challenge system at the end of each half, the league is basically saying that they HAVE to get those calls right, when it's important to get EVERY call right, even if shitty coaches like Andy Reid deserve a paintball to the eye for botching challenges.
But the scoring replay rule is even worse, because it makes no sense. If a wideout goes up in the end zone and makes a questionable catch, and the ref rules it a score, you get a free replay. If he doesn't, you have to use a challenge, or you're shit out of luck because you used two or three already. But it's the same play regardless of how the referee ruled. An incomplete ruling negates what WOULD have been a scoring play, which makes it just as crucial, at least to me, as a play that's actually ruled to be a touchdown. We're changing the conditions of the entire replay system based upon a ref's subjectivity, which could go either way if he's presented with a particularly difficult call. It makes no sense.
For the zillionth time, it's time to get rid of the challenge system. Just fucking review plays that need to be reviewed. Maybe it makes the game five minutes longer, but do you care? People rarely bitch about long replay reviews now thanks to the advent of the DVR. No one will complain if the challenge system is done away with because it's so fundamentally flawed. The system is lifted only in arbitrary moments. There is no clear time frame as to how long a coach has to challenge a call. And the general public still has no idea what camera feed team replay officials are allowed to review to decide if they should challenge a call or not. There's too much room in that system for fucking up when it would be a million times easier to just have a replay official hold up things for a brief moment to decide. If that hurts the head ref's feelings, FUCK HIM. I don't care. He's a ref. He makes up to $75,000 year working for 17 days. He'll live.
Head coaches have enough things to worry about, and Lord knows they already know how to fuck up when the game is on the line. It's time to give them a break and get rid of the red flags. College football has replay done by a booth official and it's the ONE thing about college football that isn't completely fucked. It's 2012. It shouldn't be that hard to review every play necessary and do it quickly.
The Games
All games in the Jamboroo are evaluated for sheer watchability on a scale of 1 to 5 Throwgasms. And during the playoffs, I pick the games, because why not.
Five Throwgasms
Falcons (+3) 26, Giants 17. We're done with the holidays now, but I'd just like to issue a special FUCK YOU to people who talk about their future diets WHILE they're gorging themselves over the holidays*. How many times have you been at some New Year's party where some asshole is stuffing fried mushrooms down their foodhole and, in the same breath, yammering on about how their "diet starts tomorrow!" or you hear them lament "Hoo boy, I'm gonna pay for this!" SHUT UP. You're ruining the repulsive gluttony for everyone else. Just enjoy your moment in the sun before you go worrying about how fat your ass will be the next day.
(* - I am one of these people.)
Saints (-11) 35, Lions 28.
Four Throwgasms
Steelers (-8) 14, Broncos 0. This is the worst AFC playoff field ever. Both the Broncos and Texans have lost three in a row. The Bengals lost last week. The Patriots have a shitty defense. The Broncos have a net point differential of -81, which is worse than the two teams that also went 8-8 in the AFC West. I don't know why common games was the tiebreaker used to determine the winner of the AFC West. They could have gone by conference games (which would give the Chargers the title) or by net points (Chargers again), or something that put the Chargers in instead, because watching Norv fail in the playoffs is even funnier than watching Tebow do likewise.
I think John Fox should throw Brady Quinn into this game, just so that little Timmy Tebow cries a single lone tear on the sideline and the universe explodes with Godwrath.
Three Throwgasms
Texans (-3) 34, Bengals 33. Time to remind you once again that the seemingly worst Wild Card game is usually the one that ends up kicking a whole lotta ass. I remember watching the Saints/Seahawks game last season, expecting it to be a waste of time, and then it ended up not only being a great game, it was the best game of the entire playoffs last season. I hope that isn't the case this time around. I hope we don't blow our load in the opening round. Nothing is more depressing than when you get handed a set of shitty playoff games to finish off the year. I hate dud playoff years. Now, onto the random crap:
-Earlier this season, the Patriots played a Sunday Night game with two rookies in the defensive lineup, and they were handed their starting jobs so quickly that NBC didn't have time to film them saying their name and school for the opening lineups, so they just ran a still photo instead, with no audio. It was eerie, kind of like both players had died. I hope that happens again sometime.
-I had a dream last night where my wife and kids needed me to kill this giant bug (because they were too cowardly to do it on their own), so I made a swipe at it just as I was waking up, and I found myself making the same swiping motion in bed. And it was a really lame swipe too, like an effeminate man serving a tennis ball. I was so ashamed. That bug would have gotten away scot free and eaten us all. I am not a Dream Warrior.
-One of the more enjoyable books I read last year was Conquistador by Buddy Levy, which details Hernan Cortes' conquest of Mexico back in the 1500's. And while Cortes was a ruthless man who slaughtered countless numbers of native Aztecs and may or may not have killed his wife, by God the man had BALLS. HUGE, MASSIVE BALLS. First of all, Cortes went and conquered Mexico without the blessing of the King, which means he was essentially acting as a free agent. He was just like, "You know what? I think I'll colonize an entire continent today, and worry about the paperwork later." Then he went to Mexico, brought his men all the way to Montezuma's stronghold, and then was like, "Say Montezuma, this is some nice gold you have here. Can I have it? And you mind if I tear down your killing shrine and build a church in the middle of town?" AND HE GOT AWAY WITH IT. Then he kidnapped Montezuma by inviting him over for dinner at his guest house in the middle of the Aztec capital and then was like, "You know what? I think you need to stay here forever. SORRY BRO."
Then Cortes defeated the Aztec army by forcing his men (and thousands of captive natives) to build a Naval fleet, carry the fleet over a mountain range, reassemble the fleet, and then dig a river by hand to accommodate that fleet. He did all this in his mid-thirties. Meanwhile, I'm the same age and I'm too lazy to hang up pictures in my bedroom after living in it for seven years. That's a MAN. Do not fuck with Hernan Cortes.
-My kid got a Chia Puppy for Christmas and I was tasked with helping my kid mix up the seeds and spread the disgusting chia skeet paste all over the pottery to help it grow. My kid grew disinterested after three seconds, so I took over and masterfully spaced out the seeds to give them proper time to sprout. Then I filled the puppy with water and covered him with plastic (helps retain moisture), then set him on the windowsill and returned to him a couple of times a day to add water and turn him in the sunlight. And I will be goddamned, the seeds started to blossom. They looked like giant sperm cells, frankly. It's a bit disturbing to see a terra cotta dog coated in giant green mutant sperm. BUT I MADE IT HAPPEN. I am now like a Hobbit, I have a love of watching things GROW. Next up: hydroponic weed.
-You know all that nice shit I said earlier this year about the new kickoff rule? Yeah no, that was stupid. It blows and it's ruining everything. We regret the error.