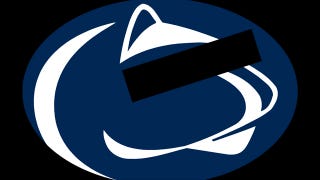 The AP got its claws on four internal memos circulated among Penn State's board of trustees and the school's new president Rodney Erickson mere days after charges were filed against accused child rapist Jerry Sandusky last November. More face. More egg. The memos are about damage control, money, and little else. What'd you expect at this point?
In the first memo, dated Nov. 14, Erickson describes how university flacks and the athletic department convened to "align our messages." He mentions the positive feedback he'd received from two TV interviews. The money quote:
This is another indication that we are taking control of the narrative of our story
Your story? You weren't president when it happened, pal. But go ahead and own this one. Own that narrative. Beat that narrative into submission. If you wrangle it enough, whatever truth you create within the Happy Valley bubble might even become the broader truth. At least you can tell yourself and your trustees that.
In either that same memo or another Nov. 14 missive, Erickson gushes that a review of the top 20 search terms for Google that day shows no "Penn State terms on that list for the first time in nine days." Hooray for aligned messages. Since the previous day, Erickson writes, "blogs, tweets, news stories, Facebook postings, YouTube videos, etc." declined 50 percent. I almost want to put three slammers (!!!) after that line. (Abuse of slammers being the true hallmark of idiocy in today's society.)
But it gets better. Another memo, dated Nov. 18, gets into the "talking points" for donors. For one, the school had no intention of revoking its non-refundable gift policy in the wake of the Sandusky scandal. Interestingly, the number of donors and the amount of money Penn State received in November only went up, compared to the previous year. The memo goes on to describe how many of Penn State's donors had spoken out in support of the school. From the AP story:
The overwhelming majority of our leading donors have made public statements affirming their faith in the university and its future. The document named a couple who gave $88 million to launch an NCAA ice hockey program, and another who endowed the position of head football coach.
The AP doesn't want to name the couple who donated the $88 million, the largest gift in PSU history. But I'll name them. The husband is Terry Pegula, the owner of the Buffalo Sabres. This October, he hired the former finance chair of Sandusky's PSU-connected Second Mile charity to be the Sabres chief development officer. (The Sabres later scrubbed their website of Second Mile references, but not before we caught them.)