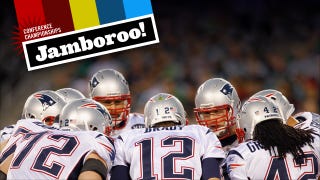 Drew Magary's Thursday Afternoon NFL Dick Joke Jamboroo runs every Thursday during the NFL season. Buy Drew's book, The Postmortal, through here. Find more of his stuff at his Twitter feed.
If you haven't read the exposé on current Chiefs GM Scott Pioli by Kent Babb, by all means do so. I will never tire of franchises that try and replicate the "Patriot Way" (no glory boys allowed!), without realizing that the only reason the Patriot Way works in New England is because the MILF Hunter is arguably the greatest football coach of all time. Once you remove him from the equation, the Patriot Way is pretty much worthless, particularly the way that Pioli envisions it. As if it's revolutionary to only draft and sign players who really, really like to play football.
When Sports Illustrated takes a poll and finds that 97 percent of retired players or whatever have no regret about their playing days despite missing three functional limbs and half a brain, that should be a signal to you that most players in the league are just as passionate about football as supposedly MEGA-PASSIONATE players like Tim Tebow (drafted by Josh McDaniels). If you saw Mike Vick play this season, you know that he nearly killed himself trying to get the Eagles back to .500. Michael Vick really likes playing football. And yet, Tebow gets held up as some kind gold standard for WANTING TO WIN, as if his desire somehow far outstrips everyone else's in the sport. It doesn't. A while back, Joe Posnanski did a glowing profile of Pioli that included this passage:
1981: That was the year he played on a Washingtonville High team that went 10-0 and won the conference championship. Pioli loves that team. There were only 31 players on it. They weren't especially talented—not one would go on to play Division I—and they had no real history of success to draw on. Washingtonville had never been very good at football.

But those kids had grown up together, and they looked out for one another, and the only thing that mattered to any of them was winning. They gave up 53 points all season. "There were three other teams at least that were clearly, visibly, unquestionably more talented," says Pioli. "We outtoughed them. We outthought them. We outconditioned them."

And this is when Pioli started to think about what a team of intensely devoted and disciplined players could do. Well, actually, he started thinking about it a few years earlier. But the 1981 team crystallized the thought in his mind. Togetherness, real togetherness, could beat all the talent in the world.
No, it can't. Total lie. A group of pee wee players that are SUPER TOGETHER would lose to a bad NFL team 557-0. Think about how dumb it is for Pioli to try and assemble a team inspired by a fucking high school team he played on. "Boy, my little collection of Hoosierscrappers sure did a number on those big city boys. Let's build an NFL team the exact same way!" That's basically the same as Josh McDaniels saying that his brother was fit to be offensive coordinator in Denver because he and McDaniels were really successful teammates in high school (McDaniels really did say this).
In fact, McDaniels and Pioli took the Patriot Way and distorted it into something far more ineffective and idiotic. Belichick signs players that he believes will be able to fill a specific role and do so at a reasonable price. That's why he gambled and signed Albert Haynesworth this offseason. Haynesworth is no one's idea of a motivated football player, but Belichick thought he could do a certain job at a good value. Haynesworth failed to do this, of course, because he's a piece of shit. But that signing was about finding the right person for the task, not about trying to build a team of magical super-character chemistry unicorns.
Pioli, on the other hand, is making those bullshit "intangibles" the centerpiece of his drafting strategy, which is the precise opposite of how a pro sports team should be run in the 21st century. Throwing away the stats and choosing guys who were captains of their college teams is only a good idea if you're THE OLDEST WHITE SPORTSWRITER ALIVE. It's a complete regression. It's like putting Colin Cowherd in charge of your team. "Screw his 40 time. What I want to know is ... who's his daddy?" The Chiefs are fucked, and so is any team that thinks it can replicate the Patriot Way without realizing what it really is, and without the best coach in football running the show.
The Games
All games in the Jamboroo are evaluated for sheer watchability on a scale of 1 to 5 Throwgasms. And during the playoffs, I pick the games, because why not.
Five Throwgasms
Patriots (-7.5) 38, Ravens 13. You're not fooling anyone with that mustache, Joe Flacco. We know you aren't The Edge.
Giants (+2.5) 20, 49ers 17. One of the big drawbacks to this Niners renaissance is that it gives Chris Berman a chance to jump on their bandwagon again. Remember: Berman is the sleazy sack of shit who accepted a Super Bowl ring from Eddie DeBartolo back in the day. I'm sure nothing would delight him more than to put on a fucking turban and force ESPN to run old footage of him picking the Bills and Niners to make the Super Bowl every year during the 1990's. God, I hate him. Now, onto the random crap:
• Reader Ralph sent in the following picture with the message "This is why Jimmy Graham shaves his head"
AY CARAMBA!
• I don't know about you, but I think much higher of my own athletic abilities when I drink Gatorade. Their advertising is just that effective on me. Even if I haven't played anything, even if I just waltzed into a gas station and bought a liter of Gatorade on a road trip, I still totally feel like Michael Jordan when I'm chugging it. OH GOD, HARD DAY OUT THERE ON THE COURT, PEOPLE. That's the real con of Gatorade. It's not that it's actually all that good for your workout (too much of it almost certainly isn't). It's that it gives you illusion of being a real athlete. Twenty years of ads featuring sweaty people drinking that shit will do that to you.
• My kid has become obsessed with numbers, particularly how high they can go and the idea that they go on forever and ever. I remember obsessing over this when I was a kid. Somehow, the idea that numbers went on forever and ever made me think about death, how you're dead forever and forever, and it would end up depressing the shit out of me. And this was when I was like, six. You shouldn't have these kinds of thoughts when you're six. It should just be, "Hey, numbers go on forever? COOL!" And then you're back to eating paste. It's disturbing to start thinking about quadrillions and septillions and googleplexes. I should have told her that 1,000 is the biggest number ever and that's that.
• A long time ago, a Funbag reader asked what color of poop would be the greatest cause for alarm, and I don't remember if I answered him or not. But I remember the correct answer now: IT'S WHITE. I swear I stumbled upon a white floater when I was a child and I will never forget it. It haunts me like a ghost. I can't imagine what would cause poop to turn ashen white. It's a terrible thing to witness, and I hope you never do.
• In case you forgot, it's Leap Year, which means that February has been extended by one day. I find this unacceptable. I know that they tacked Leap Day onto February because it's already the shortest month, but fuck that. February doesn't need to be any longer than it already is. February BLOWS. Throw that shit onto the back end of June and give June 31 days. I know it doesn't actually make any difference when it comes to the weather, but it will FEEL like it, and that's all I give a shit about. Give me the illusion that Leap Year has extended summer by one day instead of winter. That way, I can celebrate its arrival, rather than wanting to take it out back and leave a steamy growler on top of it.
• I'm a big fan of the 49ers' pre-kickoff gathering, where the kickoff team gathers on the field and starts dancing and yelling and shit just before the kick. I feel like they should chug beers and set off fireworks while they're partying back there. That looks like a good time.
• Speaking of good times: FUCK YOU, Budweiser. Fuck you and your contrived little ad where the pessimist at the bar gets into some kind of retarded word association game with the stock photo people surrounding him. He's all like TAXES. And then they're like RAINBOWS! But grinchity grouch still won't be deterred. BOSSES! he says, and then they're like PORCHES! And finally he breaks down and takes their side. MY OLD HIGH SCHOOL SWEETHEART'S TITS! And everyone starts cheering. That ad is puke. That would never happen in a bar. And if it did, I would leave, because that bar would almost certainly be a Buffalo Wild Wings.
• There are few things more exciting when you're a teenage virgin than riding in a packed car with a girl you have not hooked up with forced to sit on your lap. I remember this happening to me on a handful of occasions and nearly touching the moon with my erection. I didn't even know how to handle it emotionally. "Oh my God. She's like, ON MY LAP. Right now. This is amazing. We're practically hooking up. I can smell her hair. God, that smells amazing. Should I put my hands on her? I think I should. God, I hope I'm making the right decision." Just a thrilling moment all around. If any of you gents out there have a friend who is a virgin, you should plan as many cramped car rides for your friend as humanly possible.
• I'm glad the Saints got eliminated because I had reached my capacity for sideline shots of Gregg Williams. What the fuck, Fox? I don't need to see that man during the game telecast at all. He's not even the head coach. He wasn't even good at his job. Why are you cutting to his fat ass after every fucking play? You Rams fans should protest Williams' hiring for that reason alone. No one should be subjected to 1,000 closeups of an average defensive coordinator.
• My kid was taking her sweetass time getting ready for school this morning when I looked at the clock and realized she had all of four minutes to get dressed, brush her teeth, put on her shoes and jacket, and get to the bus stop. And so I made like Tom Coughlin and just started laying into the kid. HURRY UP! WE ARE GOING TO MISS THE BUS AND IF THAT HAPPENS WE WILL ALL DIE. So she's dressing as fast as she can and I'm jamming her jacket on and yelling at her to show some hustle, and the tension is building to unfathomable heights. It felt like we were racing to stop a ticking bomb. I get her out the door and we sprint up the hill to the bus and we get there jusssst as the bus is pulling up. SO MUCH ADRENALINE. From now on, we're always gonna be in danger of missing the bus. The rush is intoxicating. For me, THE ACTION IS THE JUICE.
• I think Joe Buck has gotten the message. I'd say he was sufficiently animated during that Giants-Packers game on Sunday, and he was even nice enough to scream out WIDE OPEN!!! before the camera panned over to a wide open receiver. I love it when the announcer gets excited about something I can't see quite yet. It lets me know that something awesome is about to happen.
• One of the nice things about the Giants remaining in contention is that we get another week of the Coughlin Face, in which Tom Coughlin will look at any player that just fucked up in a way that clearly says YOU FUCKED UP AND IF WE LOSE IT WILL BE YOUR FUCKING FAULT, NOT MINE. I WISH THAT YOU WEREN'T AS RETARDED AS YOU ARE. That's a fun face.
• I'm virtually certain that Pam Oliver was drunk on the sidelines last week. I hope she shows up to the NFC title game piss drunk and wearing a Lana Kane cosplay outfit.
• My kid ran up to me the other day and was like, "Dad! I found a picture of you!" then she led me over to the computer and showed me a picture of my big stupid face and she was like, "I typed your name, and this is what came up!" And that caused me to freak the fuck out. SO IT BEGINS. My child will soon be asking who this LeBron fellow is and why daddy called him a co-ck-suck-er? I thought I'd have more time before the walls around me collapsed. NO SUCH LUCK. It's two-plus decades of futile explanations ahead for me!