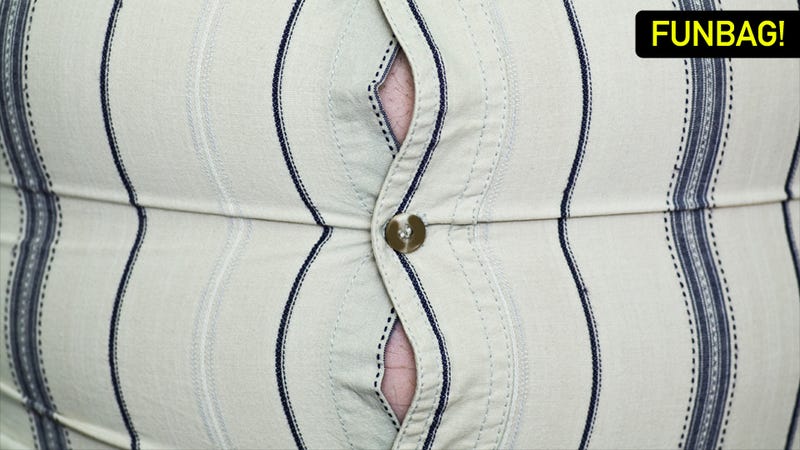 Time for your weekly edition of the Deadspin Funbag. Find more of Drew's stuff at KSK or on Twitter. Buy Drew's book, The Postmortal, through here. Email the Funbag here. Today, we're covering spiders, memory erasing, headaches, and more.
I was at the gym this morning and some old British dude started talking to me in the locker room, which is a huge breach of gym locker room protocol and totally freaked me out. Anyway, he's like, "You should watch your feet." And I looked down at my bare feet on the tile floor, and he was like, "This isn't the most hygienic floor in the world." Well, fuck you very much, Graham Chapman. I'm a grown man, and if I want to waddle around in stale piss and dried cum, I will. My feet are not your business. WHY ARE YOU EVEN LOOKING AT THEM? GO BACK TO BIG BEN. Your letters:
Rob:
So I went to the doctor last week for the first time in a couple years or so for a physical. To my sheer terror, I found out I weigh exactly 299 pounds...one pound shy of the pinnacle of fatfuckery. While I'm tall (6 foot 4), I still can't believe I've let myself go this far. I have a typical sedentary deskjob and don't work out much (ever). As someone who has lost some weight, can you tell me is there any magic trick other than starve myself and force myself to the Y during lunch time 5 days/week?
You don't have to starve yourself. If you think of it that way, you'll never make it. Think of it as editing. You like bacon and eggs, right? Well, just have a couple of eggs and two or three strips of bacon for breakfast, without two pancakes and six English muffins. Keep only the most critical foods and discard the rest. I remember I was eating Triscuits out of a box once and I was like, "What the fuck am I doing? These are Triscuits. They're not exciting." You get fat by mindlessly packing in bonus calories that aren't even all that flavorful. Make the 2,000 or so calories you get count: bacon, sausage, ham, dark meat chicken, etc. Edit.