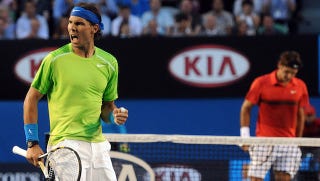 Rafael Nadal and Roger Federer are set to meet in the Australian Open semifinals on Thursday, in a match scheduled to begin at 3:30 a.m. ET. It's the 27th time the pair have met on a tennis court, with the Majorcan matador holding a 17-9 edge all-time, 7-2 in Grand Slams. The meeting is notable, considering Nadal's uncharacteristically salty comments about his hirsute Swiss rival before the tournament. The last time Nadal and Federer met Down Under was in the 2009 final, an epic four-hour, five-setter that ended with an inconsolable Federer in tears.
Deadspin tennis editor Dylan Stableford and star intern Dave Shireley have dutifully agreed to liveblog the all-night affair here. Enjoy!
3:37 a.m. (All Times EST) G'day mates! Happy Australia Day. And what better way to spend whatever the hell that is than by staying up into the wee hours to watch two of tennis's all-time greats renew their rivalry on the hard courts of Melbourne Park.
Coffee, check. Wifi, check. Adderall and oatmeal, check, check. Let the simulated jetlag begin!
Pregame coverage getting underway. Looks like ESPN has their A-Team out for this one. And by A-Team, I mean anyone who was willing to make the 19-hour flight from Bristol to Melbourne.
The estimable Brad Gilbert, BG, is awarding his customary pre-match check marks. Instead of a check mark in the intangibles column for Rafa, he just has "I Own You In Majors." Not sure if that's allowed.
BG has Rafa in 4.
Predictions from the bleary-eyed Deadspin insomniac tennis department?
Dave says Fed in 4.
Dylan has Fed in 5.
3:40 a.m. Speaking of ESPN, let's play a drinking game! Drink whenever:
• ESPN cuts to super-slow-motion shots of Nadal's pulsating biceps.
• Someone in the booth points out the wacky time zone difference.
• Coldplay's "Paradise" is used for a highlight package.
• Patrick McEnroe exclaims "Hello!" after a clean winner.
• Chris Fowler references college football (i.e. "Rafa likes to play fast and use his speed, like the high-powered Oregon offense.")
• Brad Gilbert references Metallica, Cal-Berkeley, or Andre Agassi.
• That grating Melbourne tourism ad comes on.
3:44 a.m. Worth noting: Federer has a 24-match winning streak coming into the semifinal, and has not dropped a set the entire tournament. And Federer holds a slight 5-4 edge over Rafa on hardcourts. But! Nadal has won the last four Grand Slams matches in the rivalry, the last win for Federer coming in 2007 at Wimbledon. Also! A Open-era couple records could be tied tonight: most Slam matches played between rivals (10, tying them with McEnroe and Lendl) and, should Federer prevail, most all-time Slam match wins (233, tying him with Connors). Tennis stats!
3:45 a.m. Also worth noting: It's 3:45 a.m.
3:58 a.m. 3-0 Fed Fed draws first blood, breaking Rafa in a Nadal's first service game. Then consolidates the break with an easy hold at 40-15. It's early (no shit) still but Roger is off to a fast start.
3:59 a.m. Terrorists take note: the last time we liveblogged at this hour was the Royal Wedding. Two days later, Bin Laden was dead.
4:10a.m. A quick poll among the two of us: Who is the better McEnroe brother in the booth? John or Patrick? Dylan says that's like choosing your favorite child. Disagree. It's obviously Patrick. John was the better player, dated hotter women, hosted that TV show once for about 10 minutes. Give something to little Mac. John was their parents' favorite anyway.
4:16 a.m. Nadal breaks back with some heavy ball-striking and Fed-shank-drawing. For someone who generally hits the ball so beautifully, no one on tour shanks as spectacularly as Fed. It's because of the one-handed backhand and the fact that he plays with a racquet roughly the size of Forrest Gump's favorite ping-pong paddle. On serve at 4-all.
4:20 a.m. Time for...coffee. Sorry stoners. 5-all in the first? Our buzz will not be mellowed.
4:25 a.m. Easy hold from Fed and Rafa will serve to take it to a first set 'breaker. Fed was strong out of the gate, attacking Rafa's backhand. But Rafa hung around to break back. His knee (the one he injured sitting in a chair in his hotel room) is heavily taped, but he seemed to be moving better as the set went on.
4:26 a.m. Unofficial Rafa Wedgie Removals: 54. It's a chilly night in Melbourne, perhaps keeping Nadal's swass to a more manageable level. We will of course, keep you updated.
4:31 a.m. 6-6. Tiebreak!
4:40 a.m. Federer takes a rather routine first set tiebreak, excising some of that "scar tissue" left over from his 2009 loss. Two more chunks to go!
4:46 a.m. Fed breaks Nadal at love to start the second set. Rafa looks rattled. Roger, cool. My favorite thing about Federer? How when there's a missed first serve or a ball on the court, he always effortlessly directs it right toward a ball kid. Simple, polite, elegant. It's the most Federer-ian gesture I can think of.
4:48 a.m. Not so fast my friend. Just when it looked like Roger might finish this one off before sunrise, Rafa breaks right back.
5:04 a.m. 3-2 Rafa Some of our commenters (brave, hearty souls all) have been discussing where the Rafa/Roger rivalry stands among the greatest in sports' history. For me, nothing in my lifetime comes close. I'll tell my (maladjusted, misanthropic) kids about watching them, while sitting in my hover/rocking chair.
5:05 a.m. Nadal ranges to Sydney to hit an unbelievable passing shot, soliciting the first legitimate "Hello!" from P. Mac. Drink, bitches.
5:07 a.m. And another blistering Nadal pass to secure a break and 4-2 lead. McEnroe: "That's the kind of point that could do some serious psychological damage" to Federer. Agreed.
5:16 a.m. 5-2 Rafa Fireworks! As has become annual tradition, the match is interrupted for going on 10 minutes by the Australia Day fireworks. This is stupid and annoying and makes me like Australia a little bit less. It's 9 p.m. there. Isn't that a little early for fireworks anyway? Not to mention, you know, the Grand Slam semifinal between two legends hanging at a pivotal point in the second set. Had they not noticed the big tennis tournament in town? Fine. You win Australia. Waltzing fucking Matilda. Can we get back to the match now?
5:22 a.m. Finally. Fireworks over and Roger looks lost. In about a minute, Rafa wins the game at love to take the second set 6-2. The fireworks seem to have gotten under Roger's skin. He might hate Australia more than me right now.
5:24 a.m. Fresh as Fed looked in winning the first set, he looked like an old 30 in the second. Like the rivalry itself, the momentum of this match appears to have shifted to Nadal.
5:37 a.m. Roger fights off a break point and comes back to win his first service game of the third set. Chris Fowler half-heartedly reads a Winter X-Games promo before going to commercial. Breaking news tennis fans, Chris Fowler does not like the Winter X-Games.
5:53 a.m. Unofficial Rafa Wedgie Removal Count: 111
5:55 a.m. Fed's one-handed backhand is a thing of beauty. But my favorite thing about it? It gives him mutant zombie arms. Seriously, take a look. Fed's right forearm is freakishly bigger than his left. It's pretty gross.
5:58 a.m. So far, this match hasn't produced the crackling intensity typical of Nadal-Federers past, but both Roger and Rafa have been playing some spectacular defense. Consistently ridiculous "recovery shots" being turned in on both sides of the net.
5:59 a.m. After three deuces, and four break chances, Federer finally breaks to take a 4-3 lead. He seems to have recovered from hating Australian (convict) freedom.
6:00 a.m. Good morning, East Coast people with jobs! Welcome to the Aussie Open. West Coast people just tuning in? Go to bed you drunken bastards (or, alternately, scroll up for the rules to our Aussie Open Drinking game, fellow degenerates).
Chris Fowler, once more with feeling, apologizes to the audience tuning in ESPN2 hoping see Mike & Mike in the Morning but finding Nadal/Federer Grand Slam tennis instead. No one should have to apologize for that. Ever.
6:03 a.m. Just when Federer looked poised to seize control of the pivotal third set, Nadal breaks back to even it at four. Not a lot of rhythm to this set, but some great shot-making and even better defense from both players. The set, and the match, have been poised on a knife-edge since 2-all.
6:07 a.m. I wonder if Chris Fowler is wearing pants in the booth. He doesn't always!
6:18 a.m. 6-5 Set Point Rafa. Bold prediction time. Rafa has set point against Fed's serve. If he breaks here, I'm calling it. It's over in 4.
6:21 a.m. Roger won't let it go that easy, and rips a forehand to bring it back to deuce, then goes on to win the game.
Darren Cahill just made a cricket reference. For all two of you wondering, Ricky Ponting is an Australian cricketer and former captain of the Baggy Greens. It's ok, no one else got it either. Drinking game rules retroactively amended. References to cricket=finish your drink.
6:22 a.m. Tiebreaker #2! Not-quite-as-bold prediction #2: winner of the tiebreak wins the match. This one is huge.
6:26 a.m. Rafa rips his biggest backhand of the match and takes a commanding lead at 5-1 in the breaker. The rivals change ends with Nadal up two mini-breaks.
6:30 a.m. Wow. Fed refuses to go away, and Rafa gets safe/nervous. Roger saves four set points from 6-1 down. 6-5. Nadal still has a set point remaining, this one on his racquet.
6:31 a.m. Nadal forces the error to take the tiebreak 7-5! Nadal now just one set from sending the Swiss Mister packing. Mirka is already organizing the luggage. The ridiculously expensive luggage that someone else will load into Roger's NetJet. Obviously.
6:38 a.m. As Fed holds serve in the first game of the fourth set, Company Man Chris Fowler again reminds rabid fans of watching radio shows on television that they can get their Mike & Mike fix on ESPN News.
A commenter introduces another amendment to the drinking game rules, which has been swiftly seconded and approved: Drink twice every time Mike & Mike are mentioned. Once for each Mike.
6:44 a.m. Federer seems pretty listless for someone on serve in the fourth set of a Grand Slam semifinal. Perhaps he should destroy all the rackets in his bag on the next changeover, Baghdatis-style.