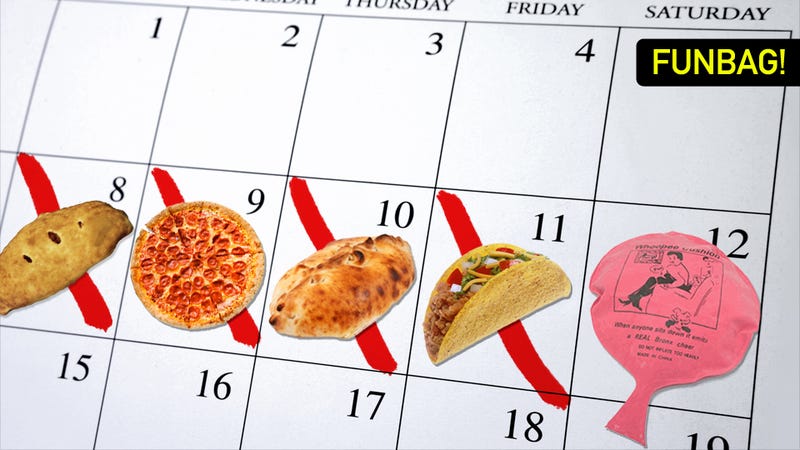 Time for your weekly edition of the Deadspin Funbag. Find more of Drew's stuff at KSK or on Twitter. Buy Drew's book, The Postmortal, through here. Email the Funbag here. Today, we're covering unwanted blowjobs, bestiality, homeless fapping, and more.
William:
Is it possible to perfectly recreate a shit and/or fart smell? Last week I had a pepperoni calzone from a local restaurant and the next morning my farts cleared rooms. I ate another pepperoni calzone the other day and the next morning, nothing! Do I need to go back and repeat the same breakfast-lunch-dinner combination to achieve the same smell?
I'm not sure even that will work, because the fart you produced with the pepperoni calzone could have been the result of the calzone combining with other things you consumed from that week, along with any other number of random physiological processes that go into producing flatulence. By the way, I say all this without having the slightest idea what the hell I'm talking about. All I know is that if you want to recreate a fart smell, you probably need set firm controls on your diet, your daily activity, and your environment. Maybe you eat the same thing two days in a row, but on one of those days you had to walk up a really rough flight of stairs, and that jumbled everything around in your big fat belly. That could change the whole recipe for the fart, and make the smell inconsistent.
I've spent most of my life blaming certain farts and certain shits on specific foodstuffs I consumed, but that's almost certainly the wrong way to go about it. A fart is much more complex than just "Eat taco, fart smells like Chinese takeout." We blame farts on specific foods because it's FUN, and because it's an easy thing to do. I want to believe that shit I laid down was the direct result of all that pulled pork I ate. If it turns out it was because of rye bread, I'm gonna be disappointed. The whole reason I eat certain foods is for the gassy fun that ensues. If a certain Mexican restaurant chain could guarantee a specific-smelling fart as the result of eating its food, the place would be PACKED daily with fart enthusiasts the world over.
By the way, pepperoni calzones have to be the unhealthiest thing in the world. When I went to dipshit prep school, there was a dogshit pizza place nearby that offered pepperoni calzones. I ordered one at least once a week. It cost five bucks and was two inches thick with stacks of sliced pepperoni, with a pool of grease formed underneath, seeping out like blood from a murder victim. I licked that grease right off the bottom of the box, I was so vile. Ah, memories.
Andrew:
The day after the Super Bowl feels like the day after Christmas when you were a kid. Just a desolate wasteland of monotony until any semblance of happiness returns. This sucks.
It sure does! I feel bereft. It's especially hurtful when the Super Bowl is good and has the outcome that you desire (In my case, that would be Boston fans losing and then acting like fatalistic twats). That was so much fun! I'M SO HAPPY! And now it's just GONE. It's not fair. You other sports can go die in a fire.
Chris:
I was stoned with my cousin the other night, eating milk and cookies, realizing that there must be a reason that these go so well together. We got into a discussion that in order for the milk to taste as damn good as it does, the cookie has to be good, but only to a point, where the mouth desires something like milk that will return it to a normal state, as cookies can dry out your mouth rather quickly. In essence, we determined that the cookie represents the power, corruption and chaotic fuel that drives the world, whereas the milk is the calm and reason that returns it to its normal state.

I ask you, which is the more "awesome" force? Is it the cookie, which holds power, feeds, and is the main course of the meal/story? Or is the milk, which in the end completely satisfies and replenishes what has been lost amongst the chaotic awesomeness of indulging in the cookie? We disagreed strongly on which one was the right answer.
It's the cookie. If someone offered you a cookie - a really good cookie, like one of those cowboy cookies with the big hunks of melty chocolate and shit - and there was no milk around, you'd still eat the cookie. Or, at least, I would. But if someone walked up to you on the street and was like, "Hey, here's some milk," you'd turn it down. What do I need milk for? Where did that milk even come from? Did you skeet in it? I bet you did. The cookie is the star of the dish. The milk is the supporting player.
I got stoned on hashish once while abroad in the UK and got into a fearsome argument with two other people about whether or not the vinegar or the tomato was the most important ingredient in ketchup. My argument was that it was called Heinz TOMATO ketchup, and not Heinz vinegar ketchup. They countered by saying that fries dipped in malt vinegar are good (this is true, especially if you're eating fries while in England), but fries dipped in tomato paste would be awful (I assume this is true). We agreed to disagree and moved onto more important subjects, like why the light bulb was, like, being all glowy and shit. You can waste a lot of time trying to figure this stuff out.
Shawn:
How much money would it take to get you to agree to take a kick to the nuts from Sebastian Janikowski? I feel like there's a certain point at which it couldn't hurt more than a certain threshold.
Are we guaranteeing NO permanent damage? If so, I think it would be a pretty low bounty. If someone offered me $50K for that, I'd probably have to agree, for the sake of my children. Then two Raiders officials would barge in and hold me down as I screamed like an infant and Seabass walked in all hopped up on GHB and then took a steel toe to my scrotum while I blacked out from the brutalizing trauma.
If there's no guarantee of avoiding permanent damage, then I'd let Seabass do it for free. I need my tubes tied and I don't have good insurance that would cover that shit properly.
Bill:
I'm 35 years old, the father of two young boys, and nothing brings me more enjoyment than throwing things at them when we're playing various games. Dropping one of them with a Nerf football from 30 yards out makes me feel like Dan Marino, and I always react like I won the damn lottery when I connect. I feel like 'throwing shit at your kids' is one of the great hidden joys of parenting.
I set up a game with my kids once where they have to run across the room and dodge anything I throw at them - usually a beach ball. I don't throw hard, because that would make me a sadist and an unfit parent. But there is a certain satisfaction when you connect with a light head shot. Very pure, like hitting a golf ball flush. And then they laugh, because being hit in the head is fun! You see? VERY INNOCENT. I also like attacking my children with stuffed animals. TEDDY BEAR KISSKAKKE!
I took my kid to a gym class last week. You sign you kids up for gym classes so that they run out of energy by the time they get home and are too tired to be annoying. The coach there was teaching them to kick field goals, which is a TOTALLY USEFUL SKILL for five-year-olds to have. Anyway, he spins the ball on the ground and then boots the fuck out of the thing so that it plunks the rafters. Now, none of the kids could do this. They couldn't even spin the ball properly. It was clear that the coach was teaching this technique specifically so that HE could kick field goals and impress all the kids. And I must say, I applaud his deviousness. I'd do the exact same thing if I were a coach. "Gimme that bat! Let me show you kids how a REAL MAN hits a fungo."
Mike:
So on my drive into work today I was listening to my normal local sports talk radio. Instantly I knew this was a re-aired morning show and I immediately turned it off. Although I never heard the original broadcast of this show, I couldn't listen to recycled crap. I also do this with any late night talk show, Saturday Night Live, or sporting event. As soon as I get any inkling its old, BOOM shows off. I feel that it's completely unacceptable to watch/listen anything after its original broadcast date.
I concur. The worst is the moment between recognizing that this MAY be a rerun and then knowing for certain. Because, 99 times out of 100, if you suspect it's a rerun, then it IS a rerun. I used to listen to Howard Stern all the time when I was a kid (I don't listen anymore because I'm too cheap to spring for satellite radio). When school was on break, I'd set my alarm for 6 in the morning so that I could wake up early and listen to Stern while lying in bed for four hours. Anyway, sometimes I'd get the sense that it was "Best of Stern," and sometimes it would take up to half an hour to finally confirm it. Once I had confirmation... BACK TO BED. Once I realized it was a rerun, I ceased giving a shit. This made no sense, especially if the material wasn't topical. It's just how my brain works. I can't listen to radio reruns or watch "Daily Show" reruns (how many goddamn weeks do they take off every year?). I have to watch The Fugitive if it's showing on network TV, I always pick the newest movie off the Netflix queue, and I can't watch any repeat games on ESPN Classic. I must be living in the NOW at all times.
Ben:
I'm in Sam's Club the other day with my 17 month old daughter. We are back in the meat department so I can treat myself to some lamb chop and pizza samples. We are strolling along looking at the variety of sausage and cheese selections when I spot this probably mid-40's couple in the beef section. Together they are holding this huge brisket high up in the air just staring at it. They do this for at least 30 seconds. All of a sudden, they simultaneously release the brisket and let it fall back into the shelf. The guy (with a long braided pony tail I might add) spins to the side, grabs the woman, and they just start going at it. Tongue, butt grabbing, thigh rubbing, etc. By this time, everyone else has noticed what was going on and is looking in disbelief. I still can't figure out what conversation they were having or what they were thinking that led to this exchange. Maybe it was just simply one delicious, erotic slab of beef.
"Honey, let's go beef tossing again!"
I think it's bad form to treat a supermarket item so poorly. If you have a ten pound brisket in your hands and you decide you don't want it, just do what I do: throw that shit in the cereal shelf and hope one of the pissboys stocking the aisles puts in back in the right place. I NEVER go all the way back to where I where my food item was. Sometimes, I put ice cream back in the deli aisle. HUGE dick move. I always leave the grocery store wondering if someone found the ice cream in time to salvage it. I wish I could plant a camera nearby. I'd be fascinated to see the endgame.
HALFTIME!
Dan:
You have to have sex with an animal (non-human, obviously). Which do you pick?

Do you go close to real, and say something like a chimp? Or do you go with man's best friend and familiarity with a bit of doggy-style? Or do you think a polar bear looks nice and snuggly?
There's a reason people have joked about rural folk banging sheep for centuries, and it has to be because fucking sheep is the most pleasant experience going in bestiality. I assume the hole is a good fit. The outside of the sheep is nice and soft to nuzzle against. And it's a sheep, so you'd get very little resistance. I think I'd almost certainly go with a sheep. A chimp would tear your dick off. Even if you eliminated the possibility of bodily harm, I'd never go for it. They stink. They make loud noises. I just don't think it would be as peaceful or enjoyable as jamming it into Mary's little lamb.
If a sheep were unavailable, I'd go with a cow. Again, I'm not looking for a rough ride. I'm not the kind of man who goes looking for a bullfuck.
By the way, if you ever had sex with an animal, please mail in. We won't judge. I'm legitimately curious as to what leads up to that kind of event. Once you cross that line, there's really no going back.
Flynn:
My girlfriend and I were discussing the dividing line between what defines a wizard and what makes a superhero. But wouldn't Storm's ability to bend the elements to her will be comparable to Gandalf's magical prowess? So what's the difference between magic and a superpower?
The wand. If Storm was waving a wand and shit, then she'd be a witch. But she doesn't need a pointy stick to do that. Plus, she has a hero name. If you have a hero name like STORM or DRAIN MAN, then you're a superhero.
The other thing is that wizards have the ability to have many powers, depending upon how much they know. If you're a superhero, you have one power (or maybe a few) inherently within you. But a wizard operates in a world where the powers are out there to be LEARNED, not acquired through means of sheer luck. Magic is something out in the ether, to be taken advantage of. Superpowers are confined to a single person. You see the difference? This is why I'd rather be a wizard. If I were a superhero who could shoot flames and then found out there was a wizard next door who could do that plus ninety other things, I'd feel like a real dipshit.
TH:
My wife exchanged gifts with one of her friends, and one of the gifts that we as a family got (well, me and the wife... my kid is 3 months old and has no teeth yet) was one of those Hickory Farms gift sets with summer sausage, two kinds of cheeses, crackers and sweet hot mustard in it. I seriously flipped the fuck out like I was that kid who got the N64 one year. Like, I was so animated that my wife and her friend broke down laughing. Is that the most stereotypical fat guy reaction to a food gift ever?
Probably. I remember when I was a kid and our school had some kind of donation drive every year, and they would hand out these catalogs featuring all the Hickory Farms cheese logs and summer sausages and I'd get all excited and be like OMG! YOU GUYS ARE BUYING US SAUSAGE?! And then it was explained that we were NOT going to given sausage, and that we were being encouraged to go door-to-door like fucking Mormons to try and convince people to buy this shit. And they always had terrible incentives for kids who sold 800 cheese logs or whatever. "You'll get a free trip to the Science Museum!" Blow me. Sell your own goddamn sausage. Schools are like little Amway schemes. My kid got a pledge drive catalog from her school the other day and I threw that shit in the trash immediately.
Matt:
How often do you think homeless people masturbate? I think if I was homeless I'd be going into a McDonald's bathroom to do it every few hours. This preoccupies me far more than it should.
I think they masturbate more often than the rest of us. How do you think they got homeless to begin with? They probably had a nice job, got caught fapping in the work bathroom, got fired, and then got blacklisted from other jobs because their former employer put them on the secret FAPPER blacklist. I know damn well this list must exist, and I fear being included on it.
Anyway, homeless people are gonna fap more often because they have the time, and because they have no shame. Look at this dude fapping in front of a lady on a Subway. HE DON'T CARE. He's going right for the jackpot. I bet he paws himself with his grubby hobo hand at least eight times a day. Kudos to him!