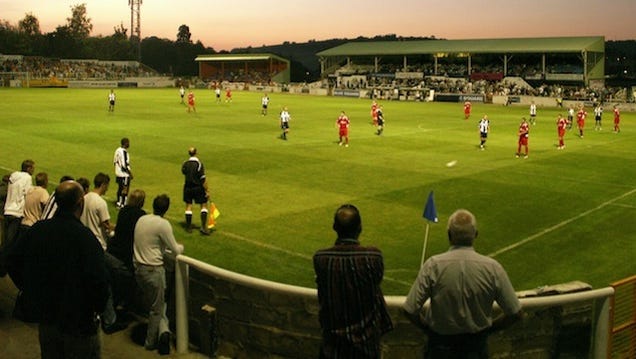 Or your cat. Or your shoes. Or pretty much whatever you want. Bath City FC, of the Blue Square Premier League, is raffling off naming rights to its stadium, with almost no restrictions. All you need is £50, which converts to about $80. Those who enter will also receive four tickets to the April 9 match against Forest City, and the winning entry will be pulled out of a hat at halftime. The name will remain in place for the entirety of the 2012-13 season.
According to Bath City's website, these are the only restrictions:
Bath City Football Club reserve the right to disqualify submissions it deems to be inappropriate. Submissions which include hate speech (either against groups or individuals), overt political messages, derogatory statements about Bath City Football Club, statements supporting another sports club or sport, or any name determined to be offensive or inappropriate to an individual or in general will automatically be disqualified. When possible, entrants who have had their submission disqualified will be offered the opportunity to re-submit a new entry. Disqualified entrants will still receive their four-ticket package, which will otherwise remain valid and will continue to be 100% non-refundable.
That still leaves room for plenty of creative options. Get to it, people!
Bath City football club offers right to rename Twerton Park stadium for £50 [Guardian]
h/t to Matt