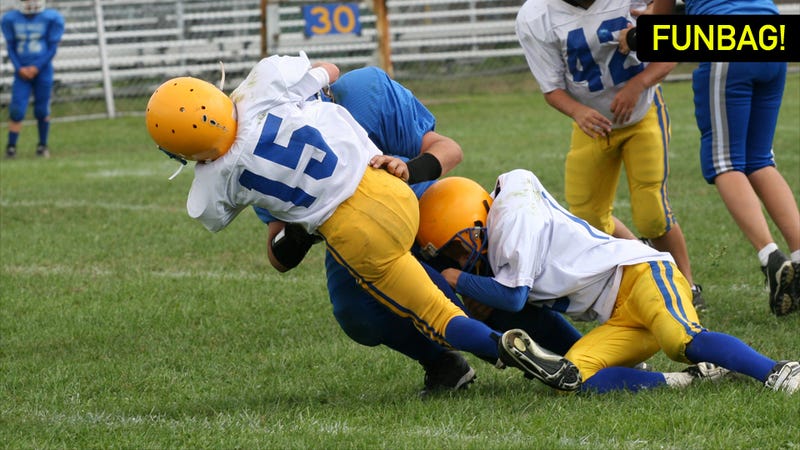 Time for your weekly edition of the Deadspin Funbag. Find more of Drew's stuff at KSK or on Twitter. Buy Drew's book, The Postmortal, through here. Email the Funbag here. Today, we're covering being born with no butthole, parrots, office food, and more. Photo by Amy Myers/Shutterstock.
I had to go get my watch fixed the other day, and the watch fixing place that I go to is one of those old school clockmaker shops that looks like it's run by a serial killer. There are old clocks all over the place and random magazine clippings tacked to the wall, with all kinds of strange tools scattered about that are used to either fix clocks or take out a teenager's gall bladder in the basement. So I walk into the shop and there's no one at the counter. There is, however, a fucking PARROT sitting right on the counter. A live parrot, with the beak and everything. And it's completely uncaged. A wild bird, with sharp claws and a hugeass beak, just hanging out.
Now I'm freaking out, because I have no idea if this bird is going to fly up and start feasting on my eyes at any moment. Then it starts talking to me, like I'm Mr. Roper from Three's Company or something, and I have no clue what to say. It was the most painfully awkward six seconds of my life until the watch guy finally emerged from the back and took my watch to be fixed. He didn't even acknowledge the parrot was there. This was all perfectly normal to him. I think that's a breach of protocol. Not everyone is as comfortable around dangerous talking birds as you, dickface. Aren't there rules about uncaged birds in public businesses? What if it took a shit on me? I WANT ANSWERS.
Now, before I get to the funbag, a quick announcement: I'm gonna be writing more for Deadspin and Gawker in the coming months. But there's not gonna be a set schedule for it or anything. The best way to keep up is either to check the Twitter feed, or check back here every so often. You never know when I'll decide to offend 99 percent of the Gawker commenters with some offhand remark about trannies. To your letters: