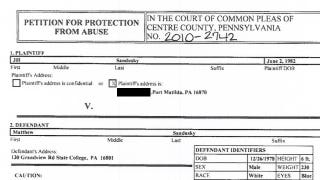 On Monday, the judge in the Jerry Sandusky case ruled that Sandusky could see eight of his 11 grandchildren at his home, provided a parent is there at all times. He can also communicate with them via phone, e-mail, or video chat. Jill Thomas, the mother of the other three grandchildren, is upset about the court decision:
"I do not believe it is safe for my children, or any children, to be around Jerry Sandusky," Thomas said in a statement.
Thomas is in the middle of a custody dispute with her ex-husband, Matt Sandusky, who was once arrested for repeatedly calling someone an "ass-licker."