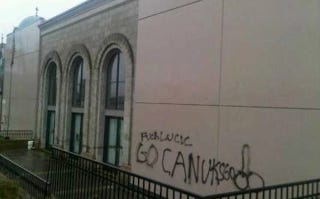 Boston Bruins forward Milan Lucic is a Vancouver native who is apparently hated by his hometown neighbors.
On the side of the St. Archangel Michael Serbian Orthodox Church is large, black graffiti that reads "Fuck Lucic" and "Go Canuks (sic) Go," along with crudely drawn genitalia.
If there is one place you don't want crudely drawn genitalia it is on a church. This, sadly, is not the first time the typically mild mannered Vancouverans have lashed out at Lucic.