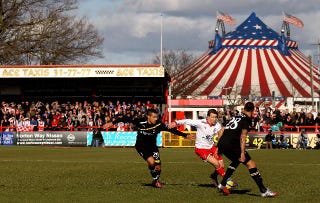 From now until the end of the season, we'll be posting a number of clips from the previous weekend's English Premier League/FA Cup games. If there's a goal, save, dive, lip-read profanity, or hocked sputum we should know about, drop us a line at tips@deadspin.com. (You might also enjoy our better-late-than-never FA Cup guide.)

Stevenage draw one for the little guys (Stevenege FC 0, Tottenham Hotspur 0)
Tottenham is in third place in the Premiership and have played in the last two Champions Leagues were in the Champions League in 2010/11. Stevenage is 47 places below them in League One. Stevenage was playing non-league soccer until they were bumped up in 2009. Then they won back-to-back promotions by beating Basil Fawlty's favorite team, Torquay United, the next year. They are currently in the hunt for yet another promotion, from League One to the Championship. If they make it to the Premier League at the end of next season (unlikely), it would represent one of the greatest runs in English soccer history. Those FA Cup fans in search of a Cinderella they could actually embrace—why couldn't you let yourself be loved, Crawley Town?—should set their sights on Stevenage.
Stevenage plays at tiny Broadhall Way, which on Saturday was filled up well over its 7,100-person capacity. Even watching the game on TV was a different experience. The camera angles were new. You could see trees above the low-slung grandstands. Trees! Looming over the park was what looked like a traveling American circus. Everything about Stevenage is a little off, and charmingly so. Two players in their starting 11 on Saturday, Chris Beardsley and Mark Roberts, are studying sports journalism.
Having pulled out a draw against Tottenham—thanks in part to an offside Scott Parker vaporizing a sure Louis Saha goal (it would have been Saha's third in two games for Spurs)—the Boro head 30 miles south from their funny little Hertfordshire home to White Hart Lane for a well-earned March 7 rematch. They'll surely have picked up a few fans along the way, this one included.
Idiots on the field (Liverpool 6, Brighton 1)
I sat down for Liverpool-Brighton on Sunday hoping for some soccer schadenfreude. After Luis Suarez left Patrice Evra hanging last week (Evra was the guy whom Suarez had recently addressed as "negro"), and after manager Kenny Dalglish defended Suarez (again), I wanted bad things to happen to Liverpool. I wanted Brighton to upset a vulnerable Liverpool side in front of their Suarez-supporting fans. I wanted Dalglish to say more stupid shit about Suarez, and I wanted owner John Henry to leave his basement lair beneath Fenway, ferry 'cross the Mersey and sack the both of them. I wanted Suarez to get punched. I wanted Suarez to miss a wide-open net. I wanted Suarez to get punched while missing a wide-open net. I believe my feelings on the matter were well-captured by the john at Nevada Smiths, where I watched the game: