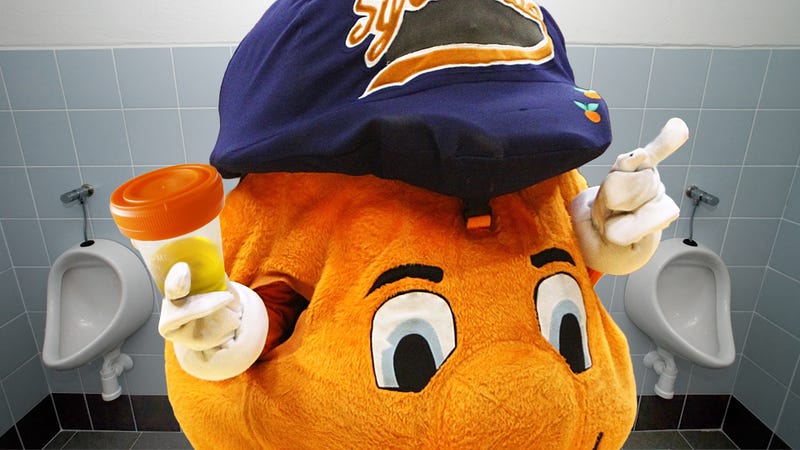 We've been around the block with Yahoo's scandal hunters a time or two, but this latest scoop is really reductioing their worst absurdum into the ground:
Over the course of a three-month investigation, four sources with intimate knowledge of the Syracuse men's basketball program told Yahoo! Sports at least 10 players since 2001 have tested positive for a banned recreational substance or substances.
A three-month investigation? This is journalism as conducted by the crew of the S.S. Minnow.
Beyond statute-of-limitations issues, Syracuse could also be charged with lack of institutional control for failing to adhere to its own drug policy, similar to sanctions recently levied against Baylor University. A wide-ranging NCAA inquiry into the Bears' basketball program in 2005 revealed the athletic department failed to follow its established guidelines by concealing positive marijuana tests for three players. A report released by the NCAA's Committee on Infractions after the Baylor investigation stated: "The failure of the university to follow its own [drug testing] procedures demonstrated a lack of institutional control."
Just to be clear on the institutional-control question: Syracuse stands accused of not keeping tabs on a drug-testing program it wasn't required to have in the first place. Specifically, we're talking about less than one player per year with a bad pee test. Now, for my money, a school that ignores the results of a totally superfluous and self-destructive drug-testing regime is showing an admirable level of institutional control. In fact, if we're talking about institutional control as an actual thing and not the NCAA's catch-all term of art, doesn't Yahoo's own reporting show something very different from a lack of control? Despite a decade's worth of unpunished positive tests at Syracuse, nobody's dealing drugs or overdosing, so far as we know. There is no slippery slope here. Control!
But Yahoo gazes upon Syracuse and its bad pee tests and is somehow reminded of Baylor. Baylor? That school went down because one basketball player murdered another basketball player, whereupon coach Dave Bliss enlisted his team in an effort to smear the dead kid so no one would notice that Bliss had been making paper airplanes out of the NCAA bylaws. The drug-testing was a subordinate clause nestled in among some genuinely ugly business. It was the dime bag found on the counter of a blood-spattered crime scene. In a sane world, that context would matter. This is not that world.
If it wasn't clear already, college-sports scandal-hunting is now deep in its Officer Krupke period. A rule is a rule is a rule, the thinking goes. Last week, Sports Illustrated published an exposé of the UCLA basketball team under coach Ben Howland that was fascinating if only for the insight it offered into the brainless authoritarianism of the scandal hunters. At one point, SI gets a player to acknowledge that he and some teammates attended a New Year's Eve rave and dropped Ecstasy, which is the sort of thing college students will do. Not long after the rave, someone—it's not clear who—ordered those players to take a drug test, which is the sort of thing East Germany would've done.