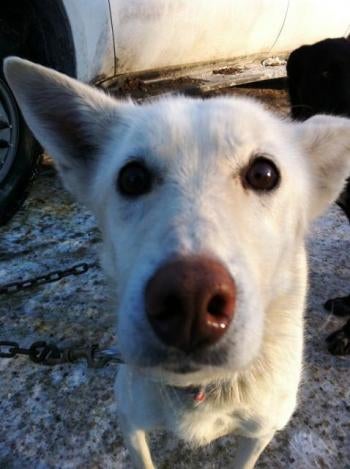 Look at that face. What dog could resist it? That's General Thelma—an "all star" runner in the Iditarod—and she has been demoted from her lead position because she is in heat. It's spring and love the primal instinct to procreate is in the air, even in frigid Alaska.
"Unfortunately, every time we stop, things go wrong very quickly," Alberta musher Karen Ramstead said recently in Nikolai, where she reported seven of her Siberian huskies were in heat.

Ramstead separated the genders along the gangline. Females were moved to the front of the team, the males chasing behind. "We're expecting puppies in 63 days or so," she said....Ramstead had to pause her race twice on Tuesday to sit out what she called "ties" along the trail. "I wouldn't want to explain it too graphically," she said.
Oh, I think we get the idea. It's not all fun and games, however. For some mushers, the lusty dogs can be an unwelcome distraction. For some, the will to succeed trumps all. Like Old Man Redington, here.