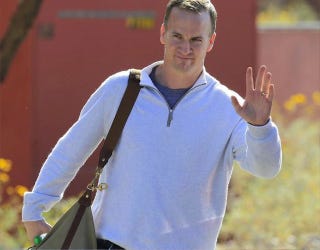 Shall we catch up on the weekend in Peyton Manning?
When last we left our itinerant quarterback, he was driving an SUV somewhere in Colorado. The Broncos wined and dined Manning, bringing in former teammate Brandon Stokley to sweet talk him.
Manning "liked" John Elway. He "liked" John Fox. When being introduced to someone new, "he always repeated the person's first name, and then said his full name. Like: 'Nice to meet ya, Jim. I'm Peyton Manning.'" He did not work out for the Broncos, because it would be ludicrous to want to see if a guy coming off of several neck surgeries can still throw.
Then it was off to meet with the Cardinals, a visit, which according to a highly-placed, super-secret inside source, "went well." They talked football and he met with receivers and everyone got along swimmingly. Arizona, too, did not work Manning out, because I guess it would be disrespectful to not take him at his word that he's healthy?
Also, Arizona would need to somehow clear about $30 million in cap space to afford Manning.
Any other teams who might want Manning? Tough shit. Adam Schefter says he's not visiting any more teams. He flat turned down Kansas City and Seattle, though he may meet with a Dolphins coach. (And after they made him a Titanic song?) Late yesterday, the Titans made their interest knowns, with Bud Adams saying Manning "is the man I want. Period." Which means Tennessee has offended two incumbent quarterbacks, compared to just one for the Jets, who tried to make it up to Mark Sanchez by locking him up for at least another two years.