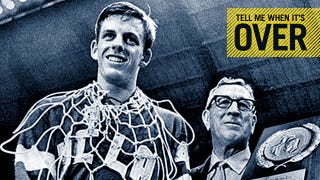 Tell Me When It's Over is an interview series in which we ask former athletes about the moment they knew their playing days were over. Today: guard John Vallely, who won national titles with and without Lew Alcindor at UCLA.
John Vallely attended two years of junior college before coming to play for coaching legend John Wooden at UCLA. In Vallely's first season, the Bruins went 29-1 and won a national championship in what would be Lew Alcindor's last year in Westwood. The following year, as captain, Vallely led the Bruins to a 28-2 mark and another national championship, their fourth consecutive and sixth in seven years. Vallely was named to the NCAA All-Tournament team both seasons.
In the 1970 NBA draft, the Atlanta Hawks picked him 14th overall, their second pick of the draft. On road trips he would room with the Hawks' first pick of 1970, Pistol Pete Maravich of LSU.
Vallely was traded to the Houston Rockets in November of 1971 and finished his career having played in exactly 100 games in the NBA. After a year away from basketball he played one final season as a player/coach in Belgium.
Vallely's son Eric played volleyball at UCLA. His daughter Erin died of cancer in 1991. Vallely himself contracted non-Hodgkins lymphoma in 2003. He now spends significant time raising money for children's cancer research through Dribble for the Cure.
Like Willie Wise, he's read the Bible at least twice.