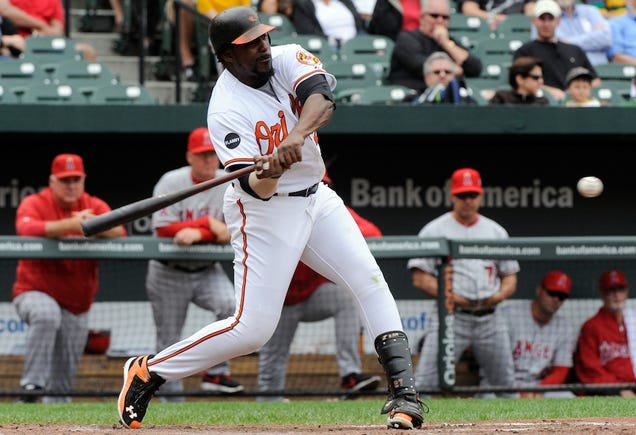 Details are still sketchy, but according to reports out of the Dominican Republic, police in Santo Domingo have issued an all-points bulletin to be on the lookout for former MLB outfielder Vladimir Guerrero. It seems Guerrero is accused of starting a brawl at a disco. This is from the Dominican Today:
Police spokesman Maximo Baez said one of Guerrero's brothers, two cousins and a worker are being held for their alleged part in the melee.
That same report says Guerrero was also wanted "for the alleged aggression against to a Police major [sic]." But another report says Guerrero "was involved in an all-night police chase after he assaulted a police car." And then there's this:
There are unconfirmed reports of a person injured and several gunshots at the disco in which the incident between Vlad and police took place

— Rafael Rojas C (@rafaelrojasc) April 10, 2012
Finally, someone is interested in picking up Guerrero.
Update (10:36 a.m.): Guerrero has surrendered to police.
Photo via Getty.
Dominican police seek ex Angels Vladimir Guerrero on brawl [Dominican Today]